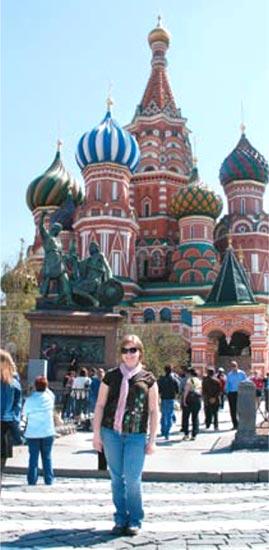 Each year nearly 1,000 students go to Russia to study, and of that more than 800 to study medicine. The other very popular subject of study is aeronautical space engineering.
Go to state universities only
Elena Barman, head of education section, Russian Centre of Science & Culture (RCSC) says, go only to state universities, the private ones are expensive. The state universities"fees are subsidised by the government. The average tuition fee for medicine is Rs 2 lakh per annum and as MBBS is for 5 years and 8 months, the total fee comes to around Rs 12 lakh. The tuition fee includes hostel stay and health insurance, which includes treatment and consultation."
When to apply
A good time to start applying is May of the same academic year as there are no qualifying examinations or competitive tests. The academic session starts in September but some universities start as late as December.
Just your Class 12 mark-sheet
Admissions are based on the 12th standard marks for bachelors degree programmes. The minimum eligibility for medicine and engineering is 50 percent in PCB (Physics, Chemistry and Biology) and PCM (Physics, Chemistry and Mathematics).
Register at the Medical Council of India
Dr Dinesh Singla, a graduate from Tver State Medical Academy, says that Indian students should register themselves with the council when they get the admission letter from the academy. For registeration you need to bring along your letter of acceptace issued by the university and the mark-sheet. Once the degree course is finished, you can appear for the exam to qualify to practise in India.

As all the Russian universities are listed in the MCI Act 1956 and World Health Organisation, Indian students are eligible for registration with the Medical Council of India.
Degrees taught in English
Since 1991 many Russian state universities have been using English as a medium of instruction, but Indian students can opt for Russian medium if they wish to, the advantage being the Russian medium course costs less.
No work visa but still can work
The student visa does not allow students to work unless the work is related to the students field of study. For example, after the third year, medicine students can work as doctors' assistants and are paid a weekly salary.
HIV test
Indian students have to undergo an HIV test before applying for the visa, and on arrival at the academy the students have to undergo Tuberculosis and Hepatitis tests.
Moscow and around
Moscow is a major tourist attraction and thus expensive, which is why the RCSC advises students to go to universities closer to Moscow but not in Moscow. In places farther from Moscow the cost of living is around $100, while in Moscow it would be $250-300 per month.
How safe is Russia?
As there have been instances of racial attacks in Russia, RCSC advises students on the dos and donts to follow when in Russia. In fact, once students arrive at the academy they are briefed on safety issues. Students should return to the hostel premises latest by 9 pm, are not to step out after 10 pm, and should avoid desolate patches. "When the colour of your skin is different there can be issues. I am here in India and I know the places to avoid after dark. So it is better to be careful," says Barman.
Salads, Borsch and coats
There's plenty of variety of breads which students must try. Salads and borsch (vegetable) soup are good options for vegetarians, though Indian food is available. As for winter clothing, buy it only from Russia. "Russian winters can get as cold as -25 degrees, India's winter in comparison is pleasant," says Dr. Singla.