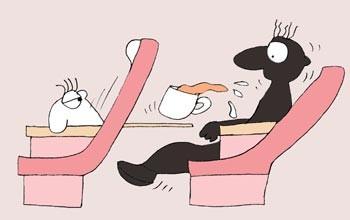 Last week, we discussed airline bloopers and invited readers to share their air travel stories with us. Here, reader Ramesh Gulabrai shares one of his experiences. Illustration: Uttam Ghosh
This happened sometime in 1995. I was flying on Ghana Airways from Accra to London. The flight was literally empty and one could sit anywhere one wanted, but a lady decided to sit in the seat right behind a middle-aged man. He was not even aware of her presence behind him.
During the course of the flight, the man decided to put his seat in the relaxed position (not upright). As soon as he did that, it hit the woman's leg and she flipped. She started yelling at him, calling him an idiot who didn't have regard for other passengers. Meanwhile, the whole flight was almost empty and she could have sat anywhere she wanted.
Anyway, one thing led to another until he called her a villager. That angered her so much that she started hitting him! Now this was way too much for the guy and he started hitting her back. They start tearing at each other's clothes and this was when the other passengers intervened, but no amount of interference could stop them from shutting up.
Finally, the captain came up to the man. "Okay," he said, "I'll have to shift you to business class, so that the two of you are separated." "What do you mean you are going to shift him to business class? Was I also not fighting? What about me?", said the woman and started demanding to be upgraded to business class too!
This was one of the most hilarious incidents I have ever experienced.
Another time, when I was about 9 years old, I went to the loo but on opening the toilet door I saw someone and getting scared, I quickly closed it. I waited for about five minutes outside and seeing me standing there the air hostess came up to me. She opened the toilet door and told me to go in. I looked inside and nobody was in there! And then I realised I had seen my reflection in the mirror. I was wearing a woollen cap which I had forgotten about and mistook my own reflection for someone else! Yeah, dumb me!
Do you have an interesting, amusing or downright annoying airline experience to share with us? Send us your story at getahead@rediff.co.in (subject line: 'Annoying airline experience') and we'll publish the best ones right here on rediff.com