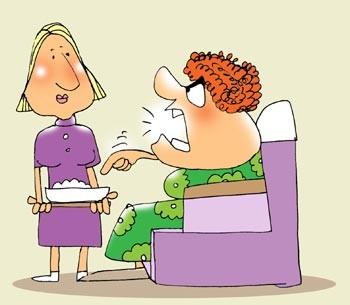 Last week, we discussed airline bloopers and invited readers to share their air travel stories with us. Here, reader Akhila Muralidhar shares one of her experiences. Illustration: Uttam Ghosh
I was travelling economy class from Mumbai to Sydney on Qantas Airlines. It is a lengthy journey of over 12 hours.
My nightmare began right from the time I stepped into the aircraft. The airline crew informed me that I had been given a window seat as another passenger had some phobia and didn't want to sit there. So I readily accepted the new boarding pass and went looking for my seat. I found an old Indian lady in her early seventies sitting in the seat next to mine. The moment she saw me she greeted me as if she had known me since my childhood and even went on to say that she had a daughter who looked just like me! She also said that she had been allotted my seat initially but to her dismay, found that a white gentleman would be sitting next to her. So she requested the crew to find her a non-window seat next to an Indian lady and there I was, sitting next to her.
My miseries began as soon as the flight took off. I started watching TV and she moved the armrest and came closer to me to watch too, on the same screen. I gave her a demo on operating the in-flight television in front of her own seat, but she said she would give me company to watch any Hindi movie!
That day I had a severe cough, so I asked the airhostess for some warm water to soothe my throat. She walked away to bring it but did not turn up for about 10 minutes. The lady next to me saw another airhostess in another corner of the plane and started waving her hands and screaming, "Madam, she needs warm water, you have not brought it," till three flight attendants came from three different directions to find out what the hullabaloo was all about. It was embarrassing to meet all the pairs of eyes that were looking at both of us.
When we had finished dinner, the aircraft encountered turbulence. We were instructed not to move from our seats till further announcement. The turbulence lasted for over 70 minutes. It was an agonising wait for all of us, since the crew could not clear the plates and cutlery before the plane hit the turbulence. So my neighbour happily piled her used plates and cutlery on top of mine and got up to use the washroom! A flight steward had to literally drag her back to the seat. Moreover, the pile of plates along with left-over pieces of meat lying in front of me was disgusting (I am a vegetarian!) and worsened my cough. When I requested her to remove her used cutlery, she argued that she was old and wanted to stretch her legs and catch some sleep!
After the turbulence ended, the crew quickly cleared all the used plates and cutlery. I quickly went into a deep slumber. I was suddenly awoken by someone vigorously shaking my elbow. She was demanding that I show her how to put the TV remote back in its place! After I put the remote back, she asked me to make space on the seat so that she could keep her handbag between us. She said she did not want to keep it on the floor nor in the compartment above as she did not trust the cabin crew!
When the captain announced that we would be landing in Sydney in another half hour, she started pestering me to bring down her luggage. I firmly told her that we would have enough time after landing to bring it down and I would get it down for her once we landed. But she went to another Indian gentleman sitting four rows ahead, requesting him to do so and he obliged.
When the plane was taxiing towards the terminal, she made a rush towards the exit and was the first one to disembark!Truly, it was one of the worst plane journeys I have had.
Do you have an interesting, amusing or downright annoying airline experience to share with us? Send us your story at getahead@rediff.co.in (subject line: 'Annoying airline experience') and we'll publish the best ones right here on rediff.com