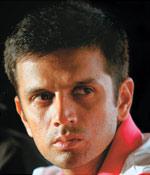 A committed cricketer, Rahul Dravid discusses how he looks at his profession.
Was professional cricket on your mind when you were in college?
I always wanted to be a cricketer. By the time I went to college I was already playing Ranji trophy. But I pursued a commerce degree as a back-up .

What do you remember the most when you think of your school life?
The most endearing moments have come on the field. The moments of triumphs I shared with my friends in the hockey and cricket team.

Playing cricket is costly. How did you manage it?
I was still in college when I received my first salary. I was on a contract with HAL and I was paid Rs 1,000 as scholarship
or salary. I got Rs 900 in hand because Rs 100 was deducted for my Provident Fund. I spent the money on myself, my bike, and the petrol for the bike. Actually, going to college and not asking for pocket money from my parents was a nice feeling.

What's most satisfying? Profession of passion or one which pays?
You have to love your profession if you want to have satisfaction from what you are doing. If you do well then it pays well. In that case, it becomes an ideal scenario. You are doing what you love and getting paid for it too.

Which teacher / professor do you remember the most and why?
My school principal (Father Dennis Coelha) will always remain very very special. He encouraged me a lot to do well in cricket.

How do you overcome failure?
By trying to learn from it. A failure gives me an opportunity to look ahead and assess how can I can improve. Every sportsman has to learn to deal with failures because it is not possible to win always.

Anything that you fear the most?
Nothing.

You belong to the '90s generation. Anything special about it?
It was a generation that saw lots of changes. It saw the nation witness changes from an older system to a technologically
advanced one. It was a huge challenge but they succeeded. It was a great thrust forward for the entire nation.

What is your day like before a competitive match?
As normal as any non-competitive day. But during the season it mostly depends on how the team is doing, in the practice sessions. But I generally concentrate on staying relaxed and sleeping well.

Your professional life must have some fascinating and despairing moments. Can you share some?
The most fascinating was obviously the Test debut at Lord's (in 1996). Getting to play for India was an ambition that I had pursued and it was such a thrilling feeling. The biggest disappointment was being eliminated in the first round of the 2007 West Indies. It was shattering.

Would you like to live for fun or live with a purpose?
With a purpose. It is fun if you achieve your purpose. It is nice to enjoy both.