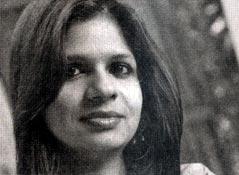 Jewellery designer Saba Ali Khan, daughter of the Nawab of Pataudi and sister of Saif and Soha Ali Khan, recently tied up with luxury diamond brand Opulence. Here are excerpts from an interview with Abhilasha Ojha.
You belong to an illustrious family where jewels must've been aplenty. What do you remember of those pieces? Any favourites?
Yes, there have been some incredible pieces of jewellery that I've grown up watching. But frankly, I love my mother's collection of contemporary jewellery. I must say for those times, the pieces are still very funky. But she was like that -- ahead of her times in terms of fashion (laughs). I still remember this beautiful black sari with huge pink and green motifs. Only my mother could've carried an ensemble like that.
Your brother (Saif Ali Khan) and sister (Soha Ali Khan) obviously love the glamour of the film industry. What kept you away from it?
All of us are creative in our own ways. I love the visual medium too but it needn't necessarily be films, right? I love photography and can give you a lowdown on cameras, lenses, frames and subjects and more (pauses). Actually, I love gizmos and gadgets. I enjoy painting too and the job that I do -- designing jewellery -- gives me a lot of happiness. I never wanted to be in front of the cameras, it's as simple as that.
Okay, so tell us about your latest collection? How did the tie-up with Opulence take place?
I mostly work with coloured, precious stones. For the first time, I've worked entirely with diamonds. The stone has appealed to me even when I was studying gemology. Working with diamonds was challenging because I was trying some unique designs with a stone which is very expensive. It was, therefore, important for me to get associated with the right company who could showcase my work while also paying attention to quality control. In that sense, I think it has been a wonderful association with Opulence.
What inspires your designs?
Nature, for sure. I like the motif on your kurta, so even as we speak, I'm thinking. I'm constantly thinking of designs actually, while travelling, while sitting in my office...
Do you ever regret not getting as much prominence as your siblings?
Not at all! I'm very proud of what I do. I'm tremendously happy with my achievements and my growth in the past eight years since I began working. I'm very comfortable and I'm equally proud of my siblings.