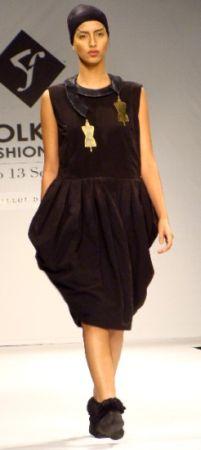 The second day of Kolkata Fashion Week (KFW) II began with city-based upcoming designer Kallol Datta's Carefully Careless collection. Here, in a conversation with Sreya Basu, he discusses his collection and perceptions of fashion. Photograph: Avishek Mitra
"I preferred not to restrict myself to a particular theme; instead, try a carefully careless look. Most people might find me crazy, but that's what I am," Datta said.
The designer, who mainly used black for his collection, has experimented with a varied colour palette this time.
"This season I fell in love with green, red and orange. And used it at random in the collection."
"I am hugely partial to cottons and used a few varieties of silk as well. It's a spring-summer collection, where I tried to show that loosely-woven wool can be worn in summer too," Datta said.
And hence the second part of the fashion show showcased a variety of wool aprons.
However, unlike most designers, Datta didn't have a showstopper for his show.
"I hate the word 'showstopper'. It bastardises the fashion industry. Everyone looks forward to see which film or sports star is going to showstop. If you want to watch such stars, go and watch films or cricket matches, why come to a fashion show?"
"Star showstoppers distracts attention from clothes to a particular person," said Datta.