Amit Gupta's blogging efforts help the layman put the fun back in photography, reports P Rajendran.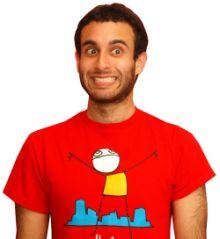 Amit Gupta celebrates the amateur in unique ways: he's a non-professional photographer who has set up a small-time business, and gets staff to write in an informal tone that anyone could appreciate. And yes, he even employs his mother.
There is a measured artlessness to photojojo.com, Gupta's website, which is why it promises the 'best shiz anywhere' for your 'bajillion photos' in language that walks the thin line between the trendy and the downright immature.
Gupta, 29, says the site, started in 2006, is aimed purely at weekend photographers and those who are passionate about it. But it is not for those so besotted with photography as to invest their life savings on it. It aims to make photography fun, with tips, tricks and suchlike, without getting into the intricacies that make it a nightmare to the uninitiated.
Gupta has always been amateur-friendly. He quit college during the dot-com boom to set up the Daily Jolt, a network of student-run web sites that now reaches over 100 colleges. He has organised work-oriented gatherings in homes (workatjelly.com) and informal 'unconferences' (barcamp.org) to spur creativity, and set up a site for the novel use of media (changethis.com) with Seth Godin, a noted entrepreneur and author in IT circles.
His parents Arvind and Suman surprisingly did not mind their son drifting out of college. "They were very supportive and said, 'Do whatever you think is right. We're here to support you,'" he says. "I wasn't quitting school because I didn't like it, and I think that that probably helped them to be supportive. I did enjoy school. I kind of wish I was still in school, because it's such a fine environment."
Gupta did go back to school, after a spell of working extra hard to pull his company back from the aftershocks of the dot-com bust; he earned his degree from the University of Massachusetts, Amherst, double majoring in economics and computer science. The break had clearly done him good, because he was more excited about school this time, he says.
"The second time back I appreciated it so much more. Everything felt like a gift: the fact that you can be in college and be around all these smart people, these amazing professors, and all you had to do was to learn...The second time around it seemed amazing and wonderful," Gupta says, adding that he felt that everyone needed to enter the job market before returning to academics.
"School is a vacation," he says.
Gupta is also a marketer. Having worked at it in New York, he has ensured that photojojo not only addresses the immediate needs of the amateur shutterbug, but also sells them what they want: everything from white balance lens caps to novel photo frames and spy lenses.
"Our mission is to help (people) have more fun with their photography," he says, adding that not everyone is as excited about the newest, latest camera as they are in capturing the moments in their lives and displaying photos of these in their home.
"We try not to be too technical...We're more into letting you have fun with this hobby. The theory, in our perspective, is it is not all about the camera; it's about what you do with it."
Speaking for himself, Gupta moved up from a Canon SD-800 point-and-shoot to a slightly more expensive Nikon D70. The Canon got wet and so, he says, he is the market right now.
He was doing some consulting projects in New York when he started photojojo as a side project. "I had a little spare time...and I figured I'd start something small, instead of taking venture capital as I did (earlier)," he says.
But is marketing eating into creative time spent in photography or site design?
"I've been always passionate about marketing...I've really enjoyed marketing, nearly as much as I enjoy photography. It is a really fascinating subject and it requires a lot of creativity," he says.
Since most marketing appears to be happening online now, and there are social media options out there that Gupta describes as 'rather Wild West' people are still groping for ways to deal with the different media available.
As a photographer, he says he loves photographing people, which he found difficult earlier but believes is his forte now. Gupta found it hard then because "it is hard to get over your shyness in approaching people and kind of busting your camera in their face. It's still hard, but I think it gets easier the more you do it." In this connection, he talks of the cool product he has in his store just for that -- the Spy Lens -- which takes pictures of people besides rather than before the wily photographer.
Gupta says his photography has evolved over time. "I've moved from using my camera as a tool for artistic expression to a tool for documenting what's going on with my life, with my friends and family," he says, adding that he has noted a similar shift in his peers, which he puts down to the potential of social media. "It's so easy share such footage with your friends."
Photojojo's breezy language has made some commentators discount it, but Gupta says it addresses his target constituency well enough. "You really have to choose. If you have something for everybody, ironically nobody will be there. Nobody wants to reads anything for everybody; they want to read something that was written for them," he says, adding that the team was always clear about its audience.
"We made a conscious choice that we are writing for a younger generation. That doesn't mean that we don't want other people to read it, but it does mean that we focussed on one demographic." If they had chosen to go for professionals and gear-heads, they could do that, but then this tone might not be appropriate for such specialised writers, Gupta points out. He also concedes that he has not addressed the Indian demographic -- rich as the community is.
Given that, at 29, he's young by any standards, what will he do after 30? Gupta laughs and says he does not do much of the writing any more, but gets involved in other things, learning about retail, managing, customer service. He has also been organising photo safaris in New York, Las Vegas and San Francisco with sponsors like HP and Adobe. And that helped him learn about event planning.
There's a book of photo projects in the works, titled Photojojo, published by Random House and expected to be out September 15. Getting that organised taught Gupta something about publishing, pitching an idea etc.
All the writing is done essentially by Kelly Jensen, who is on the more adult side of 30, and some contractors. For writing inspiration, Gupta still reads two blogs: kottke.org and daringfireball.net.
Speaking of the future of cameras as he sees it, Gupta says "In terms of devices, it is definitely converging to SLR on one end -- big, bulky stuff with high-quality lenses -- and then the phone on the other end. The common point and shoot camera will probably go away in the next few years and just be replaced by a camera built into your phone."
But consumer photography will move more towards casual, frequent life-documenting and away from special events, he says.
He speaks about new photography options that involve an audio sensor and visual sensor taking pictures wherever you are. "But the problem comes: What are you going to do with 60,000 photos from the last hour?"
Video would have been a bigger thing, he believes, "had it not been for the effort required to edit it."
What does he seeing himself doing in future? "I love creating businesses and new products. That's what I hope to keep doing, whether its photojojo or something else. But I hope it's photojojo for a while." And given the consistently positive reviews about the site, Gupta will likely be doing it for quite some time.