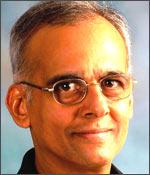 Andrologist and microsurgeon Dr Sudhakar Krishnamurti will be responding to rediff readers' sexual queries on a regular basis.
We invited Get Ahead readers to mail in their questions. Here is the next set of responses:
---
Dear Doctor,
My girlfriend is very sweaty. So if during the act her sweat goes into my system, what harm can it cause?
Also, if your fingers touch the fluid of the vagina, what are the chances of getting AIDS?
Thanks and regards
Sahil*
It would be best if your girlfriend took a shower and used a deo/fragrance just prior to love-making. Fresh sweat is normally not malodorous. It is only with bacterial decomposition that it becomes malodorous. Yes, certain infections, including HIV/AIDs, can be transmitted by sweat fluids. If the fingers coming in contact with vaginal fluid have cracks or cuts, then it is possible to pick up the HIV virus or any other infective agent contained in it.
---
Hello Sir,
I am 32 years old. My penis doesn't move back during erection. Somebody suggested I have a circumcision. So I wish to know what it is and how much does it cost? Can I have a normal life after it?
Thanks,
Neeraj, Mumbai
About 35 to 40 percent of the world's male population is circumcised. A tight foreskin is one of the important medical reasons why it is performed. I normally do it as a daycare surgery. Patients walk in and out within a few hours. Yes, you can have a very, very normal life after a circumcision. Billions of people do. In fact, if tight foreskin is the problem, you will have a better life after circumcision.
For costs etc, please call my secretary at the Andromeda office. It is not appropriate to discuss business matters on these columns. This is a medical/health platform.
---
Dear Sir,
Please note: Do not mention my name.
I am a 39-year-old male. My problem is that when I masturbate, my ejaculation occurs after a long time. But when I have sex with my wife, ejaculation occurs within 1.5 minutes. Why is this happening? Even when my wife catches my penis and masturbates for me, it take a long time to ejaculate. Why is this? Is there any remedy to overcome premature ejaculation?
Also, though I do not have sex with other ladies other than my wife, I think of other ladies while having sex with my wife. I am least interested in having sex with my wife everyday but I don't think that is because of my impotency -- I feel like having sex with new ladies all the time. This is because of my previous experience before marriage. Once I had sex with one girl, the next time I didn't like to have sex with her and looked for a new partner.
Is there any defect in me? Are most men like me?
Please advise to overcome this problem.
Thanks
Yours sincerely,
S
Premature ejaculation is the commonest human male sexual problem and has many causes, including situational causes. Please read Chapter 9, Self Help is the Best Help, Chapter 11, On Fast Guys and other Seminal Matters, and Chapter 39, Masturbation Facts, in my book Sexx is Not a Four-Letter Word to find answers to these questions. The book can easily be ordered online from the rediff bookstore.
As for your second query, polygynous fantasies are normal, but converting them into practice may be illegal and land you in trouble. Most conventional societies expect their men to be faithful to their wives.
---
Dr Krishnamurthi Sir,
I want to know that these days since it's very hot in northern parts of India, does it affect the sexuality of people? Please let us know the methods through which we can reduce this menace and enjoy sex to the extreme. Also, is there any medicine so that we can kill the worms on the anal portion of a person so that it will not affect oral sex? Please let me know.
Thanking you,
Ravi
Humans have had sex successfully in inclement weather for millenia. You might want to install an air conditioner or a cooler in your bedroom.
For the worms, you'll need a stool examination and a proper course of de-worming based on the report.
*Name changed to protect privacy.
---
Do you have a question for Dr Krishnamurti? Simply e-mail him at sexualqueries@rediffmail.com; responses will be published each week and names will be withheld upon request.
Dr Sudhakar Krishnamurti is an international award-winning andrologist and microsurgeon. He is the only Indian on the world's first-ever batch of sexual medicine fellows (Oxford, 2007). Best known for the Krishnamurti Operation for Peyronie's Disease, he is also the founder of Andromeda, India's first andrology center, and author of the book Sexx is Not a Four-Letter Word. Click here to purchase the book from rediff Shopping.
Disclaimer: Please note that Dr Krishnamurti will be answering the most relevant queries at his discretion each week. His advice may not necessarily reflect the opinions of rediff.com and while it is in the capacity of professional medical counselling, it in no way should be considered an alternative to visiting a medical specialist for sex-related ailments.