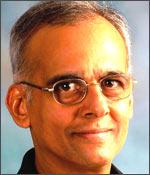 Andrologist and microsurgeon Dr Sudhakar Krishnamurti will be responding to rediff readers' sexual queries on a regular basis.
We invited Get Ahead readers to mail in their questions. Here is the next set of responses:
---
Dear Sir,
Myself Ravi, I want to know -- is there any way one can have sex without precautions or condom and yet not get the partner pregnant? Also let me know please, are there different types of condoms like thin, strong etc? And if yes, then which one is the best to enjoy sex without any risk?
Thanks.
By and far, practicing 'safe sex' by avoiding the middle of the menstrual cycle (during which time ovulation usually occurs) and engaging in sex immediately after and immediately before a menstrual period (during which time bleeding usually occurs), reduces pregnancy risk, but is not foolproof. The accuracy improves slightly if a BBT (basal body temperature) chart is used to guess or record date of ovulation.
Condoms are classified according to size, material composition, texture, presence or absence of lubricant, presence or absence of spermicide, presence or absence of nipple, colour, and taste. Strong, spermicide-coated condoms offer the best protection against pregnancies and infections.
---
Hi Doctor,
I am sharing my problem with you.I am living with this from quite a long time now. Please help me. I am a male of 22 years. Every time I masturbate I feel that I have grown fat (that my belly gets swollen and my breasts become enlarged). I started masturbation at the age of 11. I have been experiencing this problem since then. I was teased in school for my big breasts and became the butt of all the jokes. As a result I lost my confidence -- I always felt embarrassed and became depressed. I strongly feel this way (that these problems were due to masturbation only). I also feel a sensation around my nipples after the act. Is there any link? Please help me out as it is ruining my life.
Regards,
Rohit
Masturbation-related sexual queries have been dealt with in these columns repeatedly in earlier editions. Please check out the archives. Also go through Chapter 9: Self Help is the Best Help, Chapter 11: On Fast Guys and other Seminal Matters, and Chapter 39: Masturbation Facts, in my book, Sexx is Not a Four-Letter Word. This can be ordered online from Rediff Books at the click of a button. But for your physical abnormalities like big breasts etc you'll need an andrological examination.
---
Hi Dr Sudhakar
I have a bad habit of masturbation on a daily basis for last 4-5 years. Sometimes frequency is 4-5 times per day. Even I cannot sleep without masturbation. As a result now I am not feeling energetic, confident and also lacking sexual power. Even I feel something wrong with my penis as it is very small and sometimes it is like a paralysed portion of my body. I am very much worried about it and sometimes feel that I will lose all my sexual power before I marry. Please advice me what to do and how to restrain from this type of bad habit.
Thanks
Neel
Your masturbation-related queries have been addressed in the earlier question. However, all 'weakness in the penis' is not psychological. Often, there is a real reduction in rigidity due to other causes. This will require special tests.
---
Dear Doctor,
I am 27 year old...I have started masturbation at the age of 15 and I had sex with my friend (a boy) at least 5 years ago and now I am not getting any feelings from 4 years. I consulted doctors, they did lot of blood and semen analysis. They are telling tests are normal and I don't have to worry. My parents are planning to do marriage for me (looking for girl). Now I am sexually weak...I wanted to know the sex which I had with my friend would not affect my marriage life? I am mentally disturbed also, like tension etc. Please advice me whether I should go ahead with marriage or not. Please advice me whom I have to consult?
It is not uncommon for teenagers to experiment with some homosexual sex even though their real orientation is heterosexual. If that was a one-time act, and if you are now heterosexually attracted to women, you may confidently go ahead and say 'yes' to marriage. If not, look up the thirs answer in this previous edition of the column.
---
Do you have a question for Dr Krishnamurti? Simply e-mail him at sexualqueries@rediffmail.com; responses will be published each week and names will be withheld upon request.
Dr Sudhakar Krishnamurti is an international award-winning andrologist and microsurgeon. He is the only Indian on the world's first-ever batch of sexual medicine fellows (Oxford, 2007). Best known for the Krishnamurti Operation for Peyronie's Disease, he is also the founder of Andromeda, India's first andrology center, and author of the book Sexx is Not a Four-Letter Word. Click here to purchase the book from rediff Shopping.
Disclaimer: Please note that Dr Krishnamurti will be answering the most relevant queries at his discretion each week. His advice may not necessarily reflect the opinions of rediff.com and while it is in the capacity of professional medical counselling, it in no way should be considered an alternative to visiting a medical specialist for sex-related ailments.