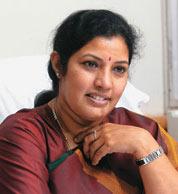 D Purandeswari, the minister of state for HRD, held the same portfolio in the previous ministry as well. She spoke to Mahesh Sarma, on how the ministry is working towards making the Indian education system effective, efficient and transparent.
It is argued that Indian education regulations are stifling in nature and a lot of institutions outside the regulatory regime are performing well. Your comments.
We need to have a regulatory mechanism in place because anybody just can't open up an institute in a 10-room building and say that 'I am imparting education to students' -- without faculty and yet charge abnormally high fees. As per our national policy on education, education cannot be for profit.
Supreme Court judgments have also pronounced that education is not a profit-making business, rather it should be accessible to everybody, even to the most disadvantaged child in our society. To translate all these thoughts, it is necessary that we have a regulatory mechanism in place. That is why, following the Supreme Court judgement, every state is supposed to have a fee committee in place, an admission regulatory committee in place and see that fees is not abnormally high.

Regulations as a stifling factor is completely different, we need to look at it outside this context.
Can an institution which has been granted deemed university status go ahead and set up 10 other unaccredited academic institutions as constitutent colleges?
In order to get a deemed university status, any institution has to go through a certain process, which I am sure these institutions too would have got through.
Not quite. Some of these institutions have received deemed university status and have opened constituent colleges which are presented as under-the-same-umbrella colleges.
There are deemed universities and there are universities that have been asking for their constituent colleges to be recognied as part of the deemed university. But, we permit only very good colleges to get affiliated. They cannot bring any other college and affiliate them to their university and call them their constituent colleges. That's not permissible.
The entire deemed-to-be university process is now coming under the scanner. We will check the institutions which were awarded the status and the process under which they were granted the status. We will also review the performance of these institutes. That is the reason why we have stalled issuance of deemed university status to any institution now. The higher education sector is now undergoing a lot of reforms and these measures are all part of the reform mechanism.
In the 100-day agenda reform list, the Ministry talked about bringing to book the colleges/universities engaged in malpractices. What are these 25 malpractices?
They are still in the process of formulation. This is again in tune with the Supreme Court judgement which says that education has to be affordable, accessible and quality-oriented. But, even as I say that, we need to also understand that almost 85 per cent of education is through the private sector. We appreciate the role that the private sector has played for proliferation of higher education but at the same time, the private sector also has a social responsibility that they need to live up to.
Will the system start functioning effectively if all the regulatory bodies are brought under one super regulator?
In order to go for a deemed university status, the institutes need to have approval of National Board of Accreditation (NBA) and National Assessment and Accreditation Council (NAAC). They assess the infrastructure, the programmes before qualifying them for a deemed university status. NBA is with AICTE, NAAC with the UGC and since they don't see eye to eye, delay happens in the accreditation process. So by bringing them all under one roof we are making the process easier and probably more transparent. People have questions on transparency.
So now the new regulatory agency, the accreditation, the recognition and the evaluation bodies will be at arm's length?
Hopefully, they should be because we have decided on a National Council for Higher Education as announced by Shri Kapil Sibal but now we'll have to work on the nitty-gritty of it and see how we could actually bring all of this together. Because we cannot have inspection happening in a watertight compartment, and awarding of recognition happening in another. Ideally they should be at arm's length but at the same time the distance shouldn't be so long that it takes us days and years to walk up to the other compartment.
What is your take on the Foreign Universities Bill?
There is a lack of policy now as far as foreign education is concerned. Foreign education providers are making use of this deficit and are making a back door entry. They are, in all probability, unrecognised institutions. They are giving programmes which are not worth anything in their own home country and are taking our children for a ride. So, it is essential that we usher in a foreign education bill to regulate the kind of institutions that are going to come. We don't want to have somebody walking into our country and setting up an institution here, having a tie-up programme and teaching our students which is not good  for our country.
Besides, the fee these providers are charging is to the tune of Rs 12 lakh and more. We don't even know the employability opportunities the education is going to provide.
So, the Act would ensure that we are not taken for a ride?
Of course. And besides, we could at least catch hold of the wrongdoers and question them, which we are not able to do now.
The other worrying aspect is that of faculty shortage.
We agree to the fact that we have a 25 to 30 per cent shortage of teaching faculty as of now. So, to bridge that gap we have increased the retirement age to 65, even up to 70 if they are deemed to be medically fit. The brain gain that is happening in our country because of the global meltdown, we are trying to work on that and see if we can actually attract these guys back into our universities.
Unfortunately when the IT boom happened, a lot of individuals headed to the west because of the lucrative pay packages. And we did not have researchers stepping in to fill their gap leading to faculty shortage. So, now we have increased the number of Junior and Senior Research Fellows with attractive pay packages.
Besides, we have an early faculty induction programme where we identify students with the potential of doing research, bring them into the teaching profession and then slowly give them time to do research even as they are teaching so that we can bridge the gap of faculty shortage. These are some of the measures that we are looking at, but at the same time encouraging research is very important for us. We are spending about 0.3 per cent of our GDP on research whereas developed countries spend anywhere between 2 to 3 per cent of their GDP. And again, out of the 0.3 per cent, 80 per cent is by the public sector. The private sector has to step in and in a big way, which somehow they haven't done so far. We are looking at these aspects.
Are there any penal provisions for erring institutions which tend to mislead students?
Unfortunately, when we define a university it is ideally one that is recognised under the UGC Act. It is also unfortunate that UGC or AICTE Acts do not have the teeth to punish.

That is why we had actually constituted the Yashpal Committee, even before it went into a larger term of reference where it was looking at the regeneration of the system. We actually constituted it to look into the AICTE and the UGC Acts and see how we could improvise on the Act. We are looking at that aspect but whenever there is a complaint to that extent, we have been talking to the state governments. There is also a concerted effort happening from the state government.
Careers360, is a complete career magazine.
Photograph: Rajesh Thakur/Outlook Group