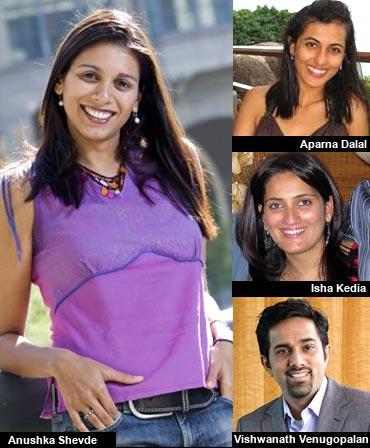 Living across different continents and three time zones -- Mumbai, Boston and Los Angeles -- is hardly a challenge for Anushka Shevde, Isha Siraj Kedia, Aparna Dalal and Vishwanath Venugopal, four start-up entrepreneurs who bet their money on a gifting website.
Neither is the fear of failure a challenge for these four friends who make extensive use of Skype, instant messaging and of course, e-mail to co-ordinate business strategies and plans for Lamhe.co.in, a website that "enables users to buy unique gifts in unique ways."
Their main challenge and the current focus of all their efforts is on expanding their vendor and customer base in Mumbai, which is the only city they are catering to with their services as of today. But plans are afoot to take Lamhe to Delhi, Bangalore and Chennai soon.
In an e-mail interview with rediff.com, Isha -- who spoke on behalf of their start-up -- discusses the company's business model, the idea behind their gifting company, their fear of failure and how they are coping with it, and how they manage their business between taking care of their kids and building strategies for their newborn enterprise.
Tell us something about yourself and your three partners...
Anushka Shevde Arellano as VP of marketing manages Lamhe's global marketing efforts. Having spent the past 15 years living in different cities such as London, Madrid, Buenos Aires, Bergen and Los Angeles, Anushka has experienced first-hand the struggle to find unique and creative gifts to send to loved ones in India.
Using her MBA from University of California, Berkeley, as well as her experience as a marketing manager at a leading biotech firm, Anushka drives Lamhe to be the preferred site for anybody looking to send exciting gifts to India. Anushka is married and lives in Los Angeles.
Vishwanath (Vishy) Venugopalan as VP of technology is responsible for the design and continuing evolution of the Lamhe website and all matters technology-related. Vishy's professional experiences in venture capital, market research and software engineering have given him an unusual combination of deep technical perspective and an understanding of what makes a compelling product. A native of Mumbai, Vishy has a bachelors and masters degrees in computer science from the Massachusetts Institute of Technology (MIT). Vishy lives in Boston.
Aparna Dalal as VP of finance and operations is responsible for operations, vendor relations and finance. Aparna has an accounting and finance background, with a CPA from New York State, and has worked with Ernst & Young in New York and Mumbai. Aparna lives in Mumbai with her husband and little daughter.
I am the CEO of Lamhe and responsible for overall operations, strategy and vendor relations. I recently relocated to Mumbai from New York and my background includes managing women's accessories for Cole Haan and stints in investment banking in New York and Mumbai. I have an MBA from Columbia Business School. I also runs Fastrackids Sobo, an after-school enrichment centre in Mumbai. I live in Mumbai with my husband and three year old son.
What motivated you to start Lamhe? How did you all come together?
In mid-2008, Anushka hit upon the idea of giving special gifts to her loved ones in India when Mother's Day came along and she was unable to find a quick and easy way to give her mom in Mumbai a unique unforgettable gift.
Meanwhile, Vishy, a college friend, got married in mid-2008 an event which inspired him to work on innovative ideas in online gifting for the Indian market. Anushka and Vishy met by a lucky coincidence. Around the same time, Anushka recruited me -- we were friends since early school days -- to bring considerable creativity and entrepreneurial spirit to the table. By several lucky twists of fate, Anushka, Vishy, Aparna and I met and created Lamhe as we know it today.
What is Lamhe's business model like?
Lamhe aims to be the best, most reliable way for customers all over the world to give gifts to their loved ones in India. For Indian customers, Lamhe represents a fresh online retail concept that will enable them to buy unique gifts in unique ways.
To this end, we have signed up with the best-in-class vendors offering a unique set of gifts and experiences. There is everything from a romantic dinner for two to a spa experience to action-packed adventure trips. We also offer exotic flower arrangements, desserts and a wide range of personalised gifts for all occasions. For the little ones we offer gifts with a twist, like creating dream libraries, and activity classes.
With our comprehensive and constantly growing catalogue we provide extremely high quality customer service to ensure an exceptional customer experience. We are also the first in India to offer wishlists -- a novel and uniquely Indian twist on the western concept of a gift registry.
What are your plans to scale up your operations and what if your venture does not succeed?
At this stage, we are looking at expanding our vendor and customer base in Mumbai. Then we will move on to capture the markets in other cities like Delhi, Bangalore, Chennai etc. From a functionality point of view, we plan on attracting customers to our wishlists, which is a new concept in India. We also have several other efforts baking in the oven that we can't talk about yet.
We are a very new company -- we launched in December so we are in very early stages as yet. We strongly believe in our concept and know there is a market need. Starting a business is tough enough on its own and start-ups need a healthy dose of optimism to keep going and succeed. We prefer to focus on the upside rather than think of failure.
How do you balance work and family?
Launching Lamhe allows us to try on a new hat -- as that of entrepreneurs. This allows us to work on our own schedules, managing work and life while at the same time allowing us to fulfill our professional aspirations.
For me, I bring my son to work with me so I can spend time with him in breaks from work. I also work in smaller pockets of time, forcing myself to be more productive. Aparna, works from home quite a bit, working around her daughter's school and nap schedules, allowing her to effectively manage her time between work and spending time with her daughter.
How do you manage your business with two of your partners in the US and the other two in Mumbai?
For us it has been a struggle as all three founders live in three different parts of the world -- namely Mumbai, Boston and Los Angeles. We have spent several hours with Skype, IM and of course email perfecting our communication. Even finding a good time to talk, with three different time zones has been a challenge. However we have a great schedule now and are masters of Skype!
Your tips for start-up entrepreneurs (dos and don'ts)...
Be patient, persistent and passionate about your idea
Focus. Plan, plan and plan
Form effective teams, with balanced, like-minded individuals
Don't bring out a product/ idea way ahead of its time. It's not always productive
Be creative and bold -- when you have more brains than money to spend, use your brains. You have to be creative
Make your customers feel great. They'll keep coming back
Lessons that you learnt as an entrepreneur...
Know the field inside out before starting a business
You have to be ready to perform every task
Marketing is key -- understand marketing and how to market your produc/idea
Entrepreneurship is hard. Take it up only if you have a real calling for it!