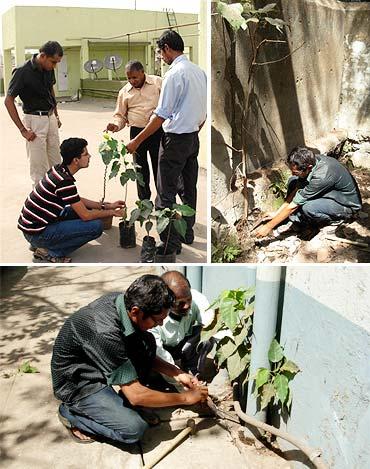 Four good samaritans are doing their bit for Mother Earth by re-planting saplings that grow on buildings and walls so that they don't die a premature death and grow into full-bodied trees.
N Ganesh meets the team members who are also soliciting volunteers to help them in their mission.
In their spare time a motley group of educated men armed with tools wander the concrete jungle on a rescue mission. Their eyes scan the building plumbing and walls. Soon their search bears fruit as they find a plant growing on the plumbing pipes of a building apartment. Out comes the tools and the plant is uprooted with surgical precision with minimum damage to its roots. The roots are immediately soaked in bucket containing solution of growth hormones that reduces the shock to the plant after they are uprooted.
Meet the one and only plant rescue team -- Green Umbrella -- that is devoted to rescuing plants that grow on buildings, walls and other places where its fate is uncertain. The team rescues the plants to nurse them and re-plant it in a new place. In the last ten months the Green Umbrella team has rescued over 200 plants from Thane and Mumbai some of which have been planted while others are being rehabilitated in a makeshift nursery.
"Majority of the plants that grow on the buildings belong to the Ficus species (Banyan, Pipal, etc) which germinate after being deposited through bird droppings. It is invariably uprooted and thrown away. We undertake the proper removal of the plant and ensure that it will be planted at a site where it will grow into a tree," said 25-year-old Vikram Yende who works in a bank. It was Yende who was individually rescuing plants and then he was joined by Kapil Jadhav (29) employed in a telecom company, Mahendra Khawnekar (40) a librarian in a Panch Karma academy and Vishal Rewankar (26), an airline booking executive. All the four are residents of Kalwa in Thane.
They were drawn to plants and trees to improve the environment and they feel by planting trees they are do their bit in a small way to Mother Earth. They either wander the urban sprawl looking for plants or attend to the calls they receive for plants rescue.
According to Yende the British had extensively planted Ficus plants in Mumbai and that is the reason why building structures in Mumbai are infested with Ficus plants. Obviously most of the calls for plants rescue are from Mumbai Lalbaug and Parel area.
"After independence all long the civic bodies have been planting Petrofarm, Gulmohar, Acacia and rain tree. These trees are not indigenous and do not support fauna. Birds do not use these trees for feeding or nesting. Moreover they drop down like nine pins in even small storms," observed Yende.
On the other hand when Yende saw indigenous plants from Ficus growing on buildings that is when the idea of rescuing these plants germinated. "I saw that these plants were very sturdy as they were growing in harsh conditions on the crevices and niches of building walls. I had known that Ficus species offers more bio diversity," said Yende. 
The team got scientific guidance when Dr Nagesh Tekale, scientist and environmentalist extended his wholehearted support to them.
"Ficus species are nature's air conditioners and contribute effectively to combat global warming. However trees such as banyan (ficus benghalensis, pipal (ficus religiosa), umber (ficus glomerata) and vad (ficus rumphii) are not preferred by people due to superstitious reasons and their aerial prop roots which come from branches to the ground to support the tree," said Dr Tekale. He is now guiding the Green Umbrella team to grow Ficus tree like any other tree without the aerial prop roots.
"To combat global warming China has been successfully growing Ficus species trees like normal trees without the aerial prop roots," said Dr Tekale.
Currently Yende and his associates are distributing pamphlets to the housing societies for creating awareness about the plant rescue undertaken by their team. The group has also been soliciting volunteers to help them in their mission as with every rescue the plant population is growing in their nursery.
"This is not the job for four persons. We have made a start we would like others to join and help us," said Yende.
Yende could be contacted at vikramyende99@gmail.com or on his cell phone 9967435681.