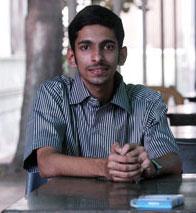 Jaiben George has many feats to his credit and the most notable one is topping the entrance exam for admission to the All India Institute of Medical Sciences (AIIMS), 45,000 students competed for 72 seats in 2009. His mantras are simple: faith in God, a focus on the present and complete dedication to studies.
If he had not secured the top rank in the AIIMS Pre-Medical Test, 17-year-old Jaiben who also topped the Kerala Engineering and Medical entrance Exam (KEAM) 2009, would have been studying at Kottayam Medical College. He had already planned to do his postgraduation from AIIMS but fate had other plans.
A bright student, Jaiben completed Class 12 from Placid Vidya Vihar, Changanacherry in Kottayam with 96.2 percent marks. According to him his school teachers were always supportive.
"The foundation for science is laid in the lower classes and it gets tougher in higher classes, when one needs to put in more effort," he said. Jaiben also secured the National Talent Search Examination (NTSE) scholarship in Class 10. He gets a monthly stipend of Rs 500 and is eligible for it until he completes a PhD, if he so desires.
He was in Class 8, when he realised he wanted to be a doctor. His father is a retired deputy commissioner of sales tax and mother a chemistry lecturer.
"My family never pressurised me into taking up medicine as a career. Of course, they did want me to get admission in a good medical college," he says.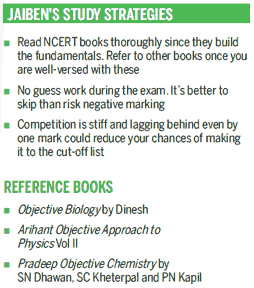 The AIIMS exam is held on June 1 and features 200 objective questions on physics, chemistry and biology (60 each) with 20 additional questions on general knowledge. The duration of the exam is three-and-a-half hours.
Each correct answer fetches 3 marks with a negative marking of 1, for each wrong answer. Apart from AIIMS he gave the All India Pre-medical Test (AIPMT) where he was ranked third, JIPMER (Jawaharlal Institute of Post Graduate Medical Education and Research), the Kerala medical entrance test and the IIT-JEE.
In Class 11, he joined Brilliant Tutorials and attended weekend classes. "Coaching institutes give you an idea of how to prepare for the exam and help to instil discipline. But don't forget that it's you who needs to study," he elaborates.
Mock tests by the institutes are a big help in building up confidence and setting the pace for the exams, he adds. He would study up to five hours, every day. Though Jaiben opted for medicine, he offers a word of advice to all, "You could achieve success in any field that you set your heart on. Which field, is what you need to work out for yourself."
He offers some tips on dealing with pre-exam anxiety. "Failures are the stepping stones to success. Do your best and leave the rest to God," he concludes.