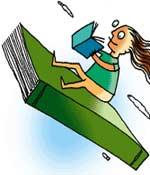 If your intentions are crystal clear, no country in the world can refuse you a visa. Things like permanent residency and jobs will automatically take care of themselves. Now since Australia and the UK have become tough, some of our students are shifting their focus to countries like France."
This was stated during the course of an interview with Amarjeet Singh, managing director of Jalandhar-based Broadway Immigration Services. Excerpts of the interview with RMS Atwal:
How do you see France as a study destination for Indian students, following the Australian and UK situation?
It's a very good option for students who really want to study abroad. France is famous the world over for its hotel management courses. Our students can settle there permanently too following a three-year work permit. Since there are no work permits for professionals, the only way to permanent settlement in France is through the study route since companies readily hire students on course completion.
Apart from hotel management, an MBA in any stream is much in demand. France dominates in the service industry. The most important thing is to know the native language. This is not necessary for the student visa but it can help you in finding part-time work.
How fair is it to mix permanent residency with foreign study?
In North India, especially Punjab, people want to go abroad for the sake of permanent residency. But we at Broadway would like to send people as professionals. The PR system is simple in France. If you go as a student you are entitled to have a three-year work permit through your company. It depends again on how good your relations with your chosen company are; in other words, how good you are as an employee.
There are no hard and fast rules as such but there are many conditions which you have to fulfil before you get a permanent residency of any country. As I said, in France there are no professional visas as such. There might be in the future, but not at present.
What is the current trend? Are more Indian students opting to study in France or other EU countries?
Yes, however students are moving more because Australia and the UK have become tougher now. I must mention here that it is not difficult to get a visa to any country if you are on the right path -- your intentions should be crystal clear. 
On the other hand, if you go the zigzag way -- don't want to do the IELTS, lack the required funds and show desperation at the interview -- it could be hard applying to any country. At the moment France is taking new recruits without the IELTS, but they do take interviews. In the rarest of cases they do waive interviews too. In such a case, they judge you based on your spoken English. 
Let me clarify here, not all institutes take students without the IELTS. It is the prerogative of the institutes; if they want to enrol students without the IELTS, the embassy has no problem in granting visas.
Then what is the visa criterion, it is only the interview or do academic records also count?
First of all, they take the academic documents from us (consultants) to judge if students are admissible or not. If a student has less than 50 per cent marks, I don't think any institute will take him. So, if a student has above 50 per cent, an interview is taken at the campus recruitment centre where they judge the student's English and his purpose -- study or some motive. 
On the basis of the recommendations of the centre, the embassy decides whether to interview the student or not -- the whole process takes about three weeks. There is in fact a three-tier system of checks -- campus recruitment, embassy and institutes -- through which a student has to pass.
How safe is France for Indian students, in light of the Australia situation?
In my opinion, France is a very tolerant country -- they don't discriminate on the basis of your colour, creed or caste. In this age of globalisation everybody has the right to live and go anywhere. On a local basis, you can find rowdy elements in any society but it doesn't mean it's a racial problem.
How is the job situation in France at the moment?
Well, the West is recovering and professionals are slowly getting their jobs back. The job situation will normalise in France too. I think, students who are going for professional courses won't feel the pinch. Though we never make a commitment to students on the job front, we do help them in finding jobs.
By the time students go for the September session, the job market should have sufficiently recovered.
What message would you give students aspiring to go to France?
Since I have been a foreign student at one time, I can say from experience that if you are going abroad to study you must complete your course, the rest of the things (permanent residency) will come. But if you go off-track (leave studies) you might commit irreparable mistakes.
If you are a good student, companies will pick you up through campus recruitments. So, if a company picks you up, you will get a PR anyway.
So, focus of your education, the rest will fall in place. Students can contact us at info@bwis.co.in for further information about France.
(RMS Atwal can be reached at rajatwal55@yahoo.com)
Illustration: Rediff Archives