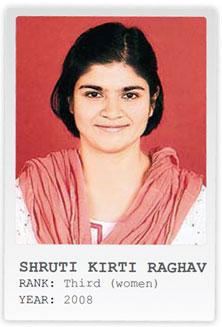 The army lifestyle is not alien to Shruti Raghav. Like children of most army personnel, she grew up in many places across the country, from Pune to Meerut and Barrackpore to Dehradun. So, while her friends in college prepared for CAT with a vengeance, Shruti set her sights on the Combined Defence Services Exam.
The CDSE is the first step towards life as an officer with the Indian Army. Admitting to being "subconsciously" influenced by her upbringing, Shruti says with firmness, "I had no back-up plan; this was the only satisfying path for me. If one needs a back-up plan, then maybe this is not the right thing for you."
In February 2008, while studying for a BA History (Honours) at the Jesus & Mary College, New Delhi, she wrote the CDSE after one week of dedicated study. "I was given instructions by Lt Col (Retd) SK Chhabra of Cavalier India, a training academy," she says. For those applying to the Officers Training Academy, the written test comprises two sections ie, General Knowledge and English, of 100 marks each and an objective-type question format.
GK includes Indian History, Geography and Current Affairs. "Since I was a student of history, I found Indian History, much easier. For instance there were questions related to the Mutiny of 1857, Mughal India and the Tughlaq Dynasty. But I had to brush up on my geography," she admits.
According to Shruti, she had no trouble with Current Affairs because she keeps abreast of the news and current events, as a matter of habit. "Read regularly and not just because of the exam," is her advice.
"English was a breeze; it tests you on your basic grammar and usage. But if you have difficulty following the language and your spoken English is not so good, I advise two months of dedicated preparation in this area," she says.
In July 2008, Shruti received a call for the second leg of the process, a gruelling five-day series of tests, which assesses your emotional, mental and physical faculties. "You must be calm and alert. The stress test not only tests your emotional quotient but your ability to react under pressure," she recalls.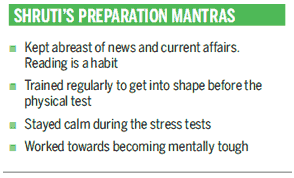 A group discussion with eight to 10 female candidates also followed, along with a physical test. "I had to jump from a height," she recalls. Interestingly, Shruti did not participate in sports actively before giving the CDSE. "But I changed my ways and started training regularly, to get fit," she adds. All candidates also undergo a medical test.
The results were declared in March 2009, and in April 2009, Shruti joined the Officers Training Academy, the Indian Army's premier institute in Chennai. Eleven months later, she passed out as an officer, on March 20, 2010.
Shruti offers some simple, straightforward advice for all CDSE aspirants, "You must be mentally tough, determined and practical." 
*Women can apply only to the Officers Training Academy. Besides OTA, men can seek entry into the Indian Military Academy (IMA), Naval Academy and Air Force Academy.