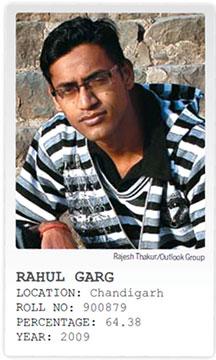 Monetary hardship, partial vision loss and a parent's illness, could not stand in the way of 23-year-old Rahul Garg's success. Today, Rahul who is also a qualified CA and CS, is in a position to care for his parents and chart out a successful career for himself. He aspires to start his own practice at the age of 35.
This Chandigarh boy appeared for the CWA exam in June 2009, and simultaneously wrote the Company Secretary (CS) final exams. "I had cleared the second levels ie, the Intermediate Levels of both CWA and CS, securing first rank in the former and fourth in CS," says Rahul. 
"One is eligible to attend both the exams, without  the dates overlapping," he adds. The CWA course can be completed in three stages; Foundation, Intermediate and Final. Minimum eligibility for the Foundation is Class 12.
Graduates are exempted from the Foundation Level. The CWA qualification trains a candidate in areas of accounting, cost and management, audit and tax functions among others, and a CWA professional maintains and scrutinises the statutory book of accounts, prepares cash budgets, cash flow statements.
Of late, they also provide consultancy services to corporate business houses. "Enrolment to the Intermediate / Foundation Course is open throughout the year and the exams are conducted in June and December," he shares. A certified CWA and CS, Rahul is also a qualified chartered accountant, currently working as senior in-charge, accountant and assurance at global firm Grant Thornton.
After completing Class 12 at the Government Model School in 2004 and topping with 90.20 per cent marks, Rahul enrolled in the CA course simultaneously with BCom, graduated in 2006 and obtained CA qualification in 2008.
But the journey to the top was not easy. Rahul, the third and youngest child in the family, was no stranger to financial hardships. His father is a driver by profession and his mother, a homemaker. And by sheer bad luck, Rahul lost partial vision during a game of bow and arrows.
Despite tough times during his childhood, Rahul's confidence reigned supreme. "For go-getters, there are no excuses," says Rahul. Inspired by his neighbours whose economic situation improved immensely after a family member became a chartered accountant after completing the CA programme successfully, Rahul decided to follow suit.
"The fact that a CA has the authority to authenticate a company's balance sheet, also fascinated me," says Rahul. Currently pursuing the Chartered Financial Analyst (CFA) Programme and an MBA (Finance) from ICFAI, the ambitious young man aims to complete both courses in a span of two years and get a dual degree.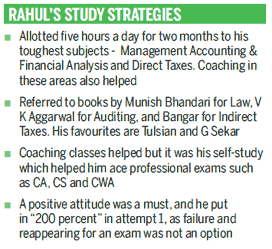 Next in the line are, an ISA (Information Systems Audit) from the Institute of Chartered Accountants of India, followed by certificates from CIMA (Chartered Institutes of Management Accountants, UK) and IMA (Institute of Management Accountants, USA).
"I want to study and be recognised in my area of work," he says about his acquisitions. Though the CWA qualification is perceived as being a notch below CA with a 40-45 per cent average salary difference, it's the diverse knowledge and increased perspective that is fascinating. "A wider knowledge base will enable me to hold a top corporate position at an early age," he says. 
Despite his doctor's advice not to strain his eyes, Rahul remains academically active. Post work, he coaches CA and CWA aspirants. He has also authored four books for commerce graduates. "I have presented the content in a simple, systematic, interesting format," says Rahul, who wants to start his own practice by the time he turns 35.