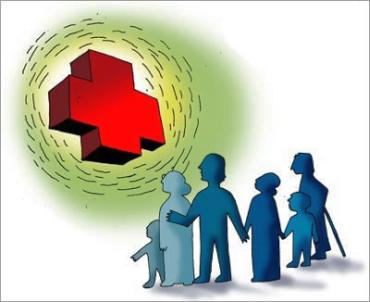 Have a query regarding health insurance or mediclaim policy? Maybe we can help.
Drop us a line and our expert, Harsh Roongta, CEO of Apnapaisa.com, will answer it.
Please write to us at getahead@rediff.co.in with the subject line as: Health insurance query.
---
In case the new insurer is not ready to cover your father at this age, then we would recommend you to buy an individual health insurance policy for him.
Harsh: As per National's individual mediclaim policy, if you have continued to pay premium continuously for more than 4 years and if you haven't claimed anything in these four years, then the pre-existing disease is covered under its policies.  Since that is true in your case, the endorsement restricting heart disease needs to be removed.
Since you already have filed your grievance with the insurance company and got no response from them, you should file a complaint with IRDA by e-mail giving them full details of the case. Please send your complaint to complaints@irda.gov.in.
Other consumers have got relief in absolutely similar circumstances and you should get it too.
I am working in State Bank of India and I get reimbursed for hospitilisation charges of self and family members from bank on submission of bills as proof. Is there any health insurance company which reimburses the amount without taking into matter that I get reimbursed from my employer?
Harsh: In case you buy a health insurance policy, you will have to submit them original bills of hospitalisation. You can submit them either at your bank or with the insurance company. So it would not be possible to get double reimbursment.
However, you can opt to buy a hospital cash plan which pays you on a daily basis for the number of days you are admitted in hospital. This plans doesn't require you to submit the original bill but they need you to submit only a proof of hospitalisation.
To know more about hospital cash plans you can visit the following link:http://www.apnainsurance.com/hospital-cash-plans/compare.html
I have one query about mediclaim for my parents: 
My mother and father are covered under mediclaim policy. Now my mother's knees have to be operated on urgent basis. Please let me know as per latest changes whether the cashless facilities have been withdrawn or are still is in effect.
Harsh: Most of the cashless issues you have seen lately are from PSUs. But either in case of a PSU or a private insurance policy, what you need to do is to check with your insurance company. If that particular hospital where you are planning to get your mother admitted is not under the network of the particular insurer, then you have two options:
Search for a hospital which is in the network of that particular insurance company
Pay for the operation and claim reimbursement.
You can get the details of the same on the website of the insurance company or by calling up the insurance company.
I have family floater medical insurance coverage through my employer from National Insurance Co: self, M38; spouse, F39; dependent father, 65 since 2003. Now my employer has decided to switch the current insurance company. But the new company is unwilling to cover my father.
Can they do that? Is not continuous insurance for last 7 claim-free years enough to continue coverage? Any advise?
Harsh: Your policy through your employer seems to be a group policy. If so, the terms of the policy are not negotiated year on year. In that case there is no history built for the claim free periods.
Frequently, such policies are negotiated such that even pre-existing diseases are covered from day one itself. Conversely, the terms unfortunately are open to negotiation year on year depending on the insurance company's overall experience with your employer's group policy. In fact the employer can and frequently does switch insurers from year to year to save costs or get different terms. Hence the new insurance company providing the group policy is not willing to cover your father
In case the new insurer is not ready to cover your father at this age, then we would recommend you to buy an individual health insurance policy for him.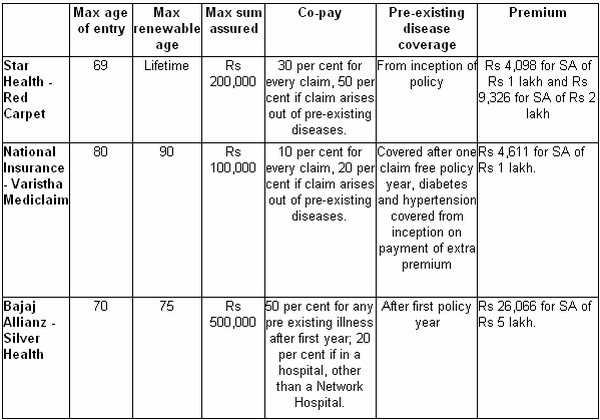 Apnapaisa is a price comparison engine that allows consumers in India [ Images ] the ability to compare the EMI, interest rates and other fees for home loans, car loans, personal loans, business loans, credit cards, compare online quotes and features of life insurance, health insurance, car insurance, travel insurance and other general insurance policies in India.