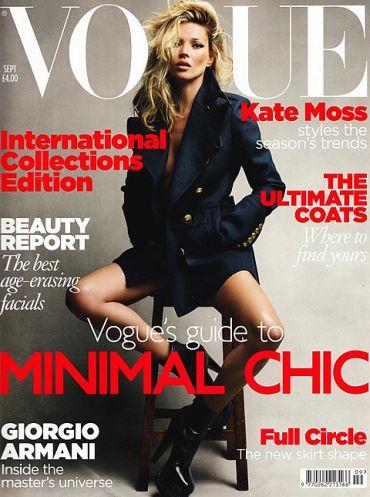 The British stunner's status as catwalk queen remains sealed, even as she approaches the big 4-0.
Supermodel Kate Moss may be close to hitting the big 40, but still has the pulling power, as she has fronted fashion bible Vogue's cover for the 30th time.
The 36-year-old has been modelling for over two decades now and is the face of British Vogue's September issue, the biggest fashion issue of the year.
Moss, who made her cover debut for the magazine in March 1993 as a 19-year-old, poses on a wooden stool wearing a Burberry Prorsum coat for the issue, reported Daily Mail Online. It is the sixth time in the last decade that the Croydon-born model has landed the coveted September issue; she has also made numerous appearances in international editions of the renowned magazine.
The cover marks the height of a glittering career for Moss who was discovered in an American airport in 1988 when she was just 14. Since then, she has landed contracts with every major designer from Calvin Klein to Versace, Burberry, Donna Karan and YSL.
Despite her continued success, it's been a bumpy ride for Moss at times , whose career came close to ending in 2005 after the publication of photographs showing her allegedly snorting cocaine. In the days that followed, the fashion and beauty industry turned its back on her as contract after contract was cancelled, but the backlash was short-lived and she quickly regained her status as a model in demand.
In the past few years she has seen her income double thanks to the huge success of her Topshop clothing range.