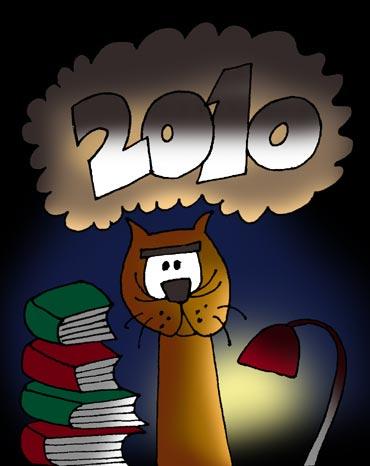 As preparation for CAT 2010 for admission to India's top B-schools gathers steam, we invited readers who have taken the CAT in previous years to share their experiences and advice with this year's test-takers. Here Archit Shrivastava, an IIM Indore student, shares his advice...
I took CAT, XAT and MICAT in 2009-10. I scored in the 97.9 and 91 percentile in CAT and XAT respectively. MICA did not given scorecard this year, instead the issued direct offer letters.
What were the differences in exam patterns?
I felt all the three exams primarily test basic managerial skill set including aptitude, communication ability and time management, though the testing methodology is somewhat different.
As far as CAT and XAT  are concerned, both held no major surprises except the fact that CAT went online this year. MICAT on the other hand was conducted on the national scale for the first time.
The differentiating factors of MICAT were the psychometric and creative writing sections. MICAT was more challenging on the verbal section and XAT on quant. CAT had evenly spread difficulty levels throughout the sections.
My strategy for the written exam, GD, PI and Essay
Many people say different things about strategising for the written exam. Start from this section, spend this much time on each section, keep a buffer, skim first, etc. I followed a simple method: start with the section I'm strong in so that my confidence is built up.
I divided the total time equally in on the three sections and attempted each full section at one go. I felt keeping some buffer time and going to and fro between sections was not working for me. I strictly followed the clock to switch sections and tried my best not to stick to any particular question for too long.
I read a lot to prepare for the GD/PI. Instead of covering every happening around I tried to pick up a few important events/ debates and read all about them. These in-depth readings also gave me the content for essay writing.
Tip for CAT 2010 candidates
Each aspirant is at different environmental and mental levels, so there cannot be a generalised approach to crack CAT. As of now, CAT 2010 will continue to be a CBT with the same exam pattern so I think the basic study approach will not change.
You must identify your strengths and weaknesses so you can capitalise on your strengths and work on your weaknesses. Time management can come only by practice so my only advice is to practice a lot.
My experience with computer-based CAT
CAT was computer-based for the very first time and we were the guinea pigs. Personally speaking I did not have a good experience. In the first 30 minutes, the links failed not once but twice in my room. In fact we had to reboot our system too. You can imagine the tension and anxiety we felt.
Making CAT a CBT is a great eco-friendly move by IIMs but it has its own pros and cons. On one hand it reduces paper consumption and speeds up the complete process, but on the another hand I felt it made the DI section more time consuming as you cannot mark anything on the question paper.
Switching focus between paper and computer screen was both annoying and time consuming and glitches can shake the confidence of any aspirant.
Considering this was the first time and assuming infrastructure/connectivity problems will be taken care of, I still feel overall this is a good move and pupils will adapt to it.
Advice to prepare for the computer-based format of CAT
The only difference which CBT CAT has from the traditional CAT is that the question paper is on the computer and you have to log your answers on the computer. So the only way to do well in here is to make yourself acquainted with it.
Practice as much as you can so that the computer format hold no surprises for you and you can give your best on the day. I too did the same. I did not join any coaching class but tried to give 3-4 full length tests simulating the exam environment.
Message I would like to share with aspirants
One thing what I learned in the last few years is don't give up the fun part of your life just to prepare for exams. Every one of us want to excel in life. We want one thing so badly (success, money, topping an exam or even a girl/boy) that we are ready to compromise on other things (like time for movies, outings with friends/ family, sleep, games) for it. Trust me, it doesn't work. So enjoy the journey as much as you want to enjoy your destination.
The IIM Indore GD&PI experience
IIM Indore had 3 rounds. The first was essay writing for about 20 minutes, the second was a short psychometric test and the third and final round was the interview round.
First round
The topic I got was related to the banning of private vehicles on Indian roads. We had to take a stand either in favour or against and substantiate our stand. I refuted the argument and managed to finish the essay within time frame with a proper conclusion.
Second round
The psychometric test consisted of a question set about the kind of person you are. There is no right or wrong answer for such questions. They basically test consistency in your answers. The test puts the same question in different ways, in different patterns with a gap of 10-15 questions, the trick is you have to be honest and remember which option you picked the first time.
Third round: Along with the interview call letter IIM-I sent a eight-page interview form, which you need to fill and carry for the interview. The panel that interviewed me consisted of two panelists a lady and a gentleman. The lady dealt with the HR questions and the gentleman with hardcore technical questions.
I was asked questions from almost every phase of my life: family, education, profession, extracurriculars etc.
I was asked about my hobbies, achievements, entrepreneurial dreams, why not a hobby as a full-time profession and why MBA.
Technical question included the Laplace transform, microwave theory, antenna, civil, IT everything and for half of the questions my answer was "Sorry sir, I can't remember". We studied 5 subjects in every semester, we had 8 semesters, in total 40 subjects. How could anyone remember all these, and after 3.5 years of work-ex in a completely different field? Finally I said, 'Sir, I am an electronics engineer and still have a good command over electronics.'
Thankfully the interview shifted to where I wanted it to be. I had spent three days revising electronics before the interview and the preparation paid off. I was asked about photoelectric effect, LEDs, semiconductors, transistors, amplifiers and what not. Somehow I managed to impress him in the end and he said good and shifted to work-related questions.
In all, my interview went on for 30-40 minutes.
Did you crack the CAT recently? What was the experience like? How did you begin your preparation and how did you plan your CAT strategy? Which are the most important study topics? What are the common problem areas that test-takers face and how did you approach them?
Simply e-mail us your CAT tips and advice at getahead@rediff.co.in with the subject 'My CAT tips' and we will publish the best right here!
Illustration: Uttam Ghosh