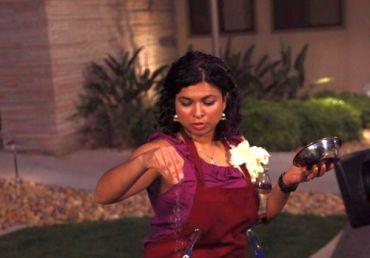 Aarti Sequiera is all set to serve up American cuisine with a healthy dollop of Indian flavour after winning US reality television show The Next Food Network Star.
Aarti Sequiera, an India-born, Dubai-raised former CNN producer and avid food blogger, participated in the US reality television show The Next Food Network Star and was declared the winner at the grand finale aired August 15.
The show pits aspiring chefs against each other, all vying for not just the title but the opportunity to host their own cookery show on the channel.
Sequiera, who lives in New Jersey and has trained at The New School of Cooking in Los Angeles, USA, was one of three finalists who had to prepare a three-minute pilot episode which was then judged by a focus group.
Naming her mum as one of her culinary inspirations, she describes her as having 'a sure and light touch with all the Indian spices, [who] teaches me again and again'.
Describing her own style she says she likes 'to play around with Indian flavours and figure out how to add them to American classics, and how to add an element of surprise and freshness.'
Her culinary experience includes teaching at her alma mater and hosting an online cooking show at www.aartipaarti.com.
Photograph: Courtesy aartiparti.com