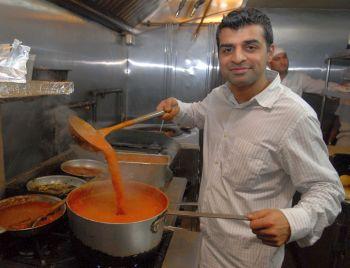 Chef Gaurav Anand, Arthur J Pais discovers, wants to change the rules of the game.
When he arrived in New York from New Delhi nearly three years ago, this young man was certain of two things -- of a warm welcome from his Indian girlfriend, who was studying in the city. And that he would open an Indian restaurant to prove healthy Indian food was tastier than standard meals prepared with heavy cream, seasoning and a heavy hand.
"But I really did not how to go about starting a restaurant in New York or any American city," remembers Anand. We are at his newest restaurant -- the Bhatti Indian Grill that opened six months ago. He is taking a break from the kitchen. Across the street is Kathi Rolls by Kabob Factory, another venture of his, just one month old.
"I had the backing of my family, including my older brother Saurab, with whom I ran a restaurant (named) Tripti in New Delhi. I (also) had the moral backing of my girlfriend, who is going to be my fiancé soon. And I knew how to do restaurant chores from washing floors and making sauces to cooking and waiting tables."
But his Indian experience didn't matter much in America -- at least to New York landlords, who bluntly told him he had no credit history. "I sought the help of many Indian restaurant owners. Told them (about) my family history. Told them my father S K Anand is a well-respected Indian supreme court lawyer, and that we run a successful restaurant (in Delhi). But hardly anyone would listen."
The few that listened mostly discouraged him. Well, almost. The owner of a bunch of Curry Hill restaurants, located at the mid-Manhattan blocks on Lexington Avenue, took an instant liking to Anand. He was in the process of closing his restaurants and moving into another business. He offered the smallest of his eateries -- with just about 15 seats -- to Anand. The Kabob Factory began there.
"There were just about three or four items (on the menu) at Kabob Factory but the word of mouth (spread) and people were saying that for once the phrase 'a kebab that melts in your mouth' meant something," he says with a laugh. "Soon there were small lines outside."
In a matter of months landlords, who had rejected him earlier, were offering him space to open a larger restaurant. He closed Kabob Factory, that he had run for a year and opened Bhatti, a 40-seat upscale restaurant. The new restaurant caught the attention of popular publications like Time Out New York and Village Voice in no time. He came to hear that some people were trying to take the lease of his first restaurant. "Before someone could get that place, I went to the landlord, and signed a new lease, gave the place an extended name." His third restaurant, the Kathi Rolls by Kabob Factory opened in mid-December.
Anand, who banished heavy cream from most of his menu and has forbidden the use of factory-made colours -- "I use Kashmiri chillies, turmeric and herbs like fenugreek (methi) that give my dishes distinctive colour and glow" -- believes that cooking healthy Indian food is not difficult at all.
"But you ought to have an open mind, and you ought to think beyond the traditional approach. I don't believe in artificial tenderisers for the meats. Papaya juice and pulp are great taste-enhancers and tenderisers. But many restaurant owners just do not have the patience for a slow-process cooking."
"I wanted to show that there is more to Indian food than meats and fish cooked in heavy oil," he says. "Or how simple steps like using plump and great tasting tomatoes instead of tomato ketchup makes a lot of difference to a dish."
He plans to hold a festival of Indian regional food. "Instead of learning the dishes from a book and cooking it myself, or getting my chef to do so, I am planning to get excellent chefs from India for a week or two. My staff and I will be learning from them. And the customers in the New York area will have an affordable feast, tasting little-known (in America) Indian delicacies."
Anand's culinary voyage started in Delhi soon after he graduated with a degree in commerce and began helping his brother. "I spent a lot of time in the kitchen, watching cooks and learning from them. But I was also a critic. If I thought something was missing in a dish, I would tell the chef."
His brother's restaurant also ran a bustling catering service. "On (one occasion) we were catering to a meal for 1,000 people. The guests were apparently enjoying the food. But I wasn't. The personal touch of the chef was missing. I told him so. He stared at me, and said, 'If you are that good at cooking, why don't you run the kitchen?'"
Soon Anand was off -- and running. He was running from one chef to another, in small towns and medium-sized cities, sampling food that was wholesome, brimming with taste and flavours, and did not take ages to prepare. "I went to towns and cities in Punjab, then to restaurants in and around Lucknow, to the outskirts of Delhi, and to learn more about fish, I went to Goa. I begged cooks to give me recipes, share just one or two of their secrets. Some obliged. Most would not. I would pretend at times I was a student from a culinary institute and ask for their blessings -- and recipes. It was not an easy process. But I would not be daunted."
It took him months to unravel recipes, improvise, and create his own spices and sauces. There were times he wondered if he had graduated with a commerce degree. He felt like he was a chemist.
In New York, he continued his experiments. "Making the marinades became an obsession with me," he says. "Though I have an excellent cook, Sonny Singh, running our kitchens, I do all the marinades. And on Mondays, I cook everything so that I won't lose my touch."
On a recent evening at Bhatti, a customer ordered a starter, a grilled chicken item with herbal coating, a main dish, and a side-dish. He ordered the leftover items to be packed. A young man at the restaurant took the leftovers to the kitchen and packed them. When he presented the check, he told the customer: "You were busy reading when you were eating. You did not realise that the kitchen had made a mistake and they had given you a dish very similar to the one ordered. We are not charging you for the dish."
That young man was Gaurav Anand. "It was the right thing to do. I lost a few dollars but I felt happy deep inside. Most people, I talk to in the restaurant, (asking how the food was) do not know I am also the chef and owner," he says with a hearty laugh. "And that is fine. I am not running this restaurant for any personal glory. If I can become just another Indian chef who can help make healthy Indian food a household name in America, I will think that I am on the right track."
Bhatti Indian Grill is located at 100 Lexington Avenue, 28th Street, New York; (212) 683 4228
For a few tasty Indian recipes by Gaurav Anand, click here.