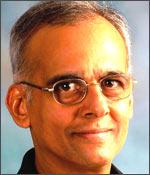 Andrologist and microsurgeon Dr Sudhakar Krishnamurti will be responding to rediff readers' sexual queries on a regular basis.
We invited Get Ahead readers to mail in their questions. Here is the next set of responses:
---

Hi Doctor,
I am 35 years old and married for 5 years. I have a 4-year-old son. I have a very good sex life with my wife. Recently I observed that I have a very tight frenulum and feel pain after sex, mostly if I wash my penis with cold water.
By using a condom I can manage to avoid the pain, but miss the enjoyment of my sex. At the same time, I feel the pain over my inner skin too, other than the frenulum. It is the kind of the pain one gets after rubbing skin on a rough surface. It takes few days to get heal, after applying a cream (quadridrum). Is it also due to the tight frenulum? Please advise me.
Regards,
Chang
The only permanent cure for a tight frenum is a circumcision operation. Topical applications and conservative frenectomy operations often do not work, and even when they do, the condition keeps recurring.
---
Hi Doc,
My problem is something exceptional. I have a problem of alopecia areata universalis for the last 20 years. And for the treatment of the same, I am on a corticosteriod drug Betnesol. I m single and aged 29 years. I know this drug has lots of side effects which I'm do facing.
Since there is no other cure, the only hope for me is this medicine. I heard that during steriod treatment it is not advisable to try for a child since it can cause abnormalities and other serious risks. I'm taking this medicine from the last 10 years or so. I think I'm not suitable for marriage.What's your suggestion?
Thanks and regards,
Undisclosed
The amounts of steroid absorbed through the skin will depend on the type of steroid used, the part of the body on which it is applied, and the quantity and duration of use. The scalp is a very vascular surface and continuous use over 10 years might warrant an assessment if it has not been monitored on an ongoing basis. It is best that you talk to the dermatologist/ trichologist who has been treating your alopecia areata. You might require some tests.
---
Hello Sir,
I am 26 and need to get a circumcision done. I wanted to know how much time it takes to perfor the operation and also recover after circumcision is done, to perform routine work and also to indulge in intercorse. Are there any chances of getting infected during circumcision? Looking forward to your reply.
Thanks and regards,
Sidesh
Our patients normally walk in, undergo surgery under local analgesia, and walk out. Many travel back to faraway destinations and resume work almost immediately. Infections are extremely uncommon.
---
Dear Doc,
I am 33 (married in 2000) and wife is 29; have two kids, aged 8 and 3. I dont have any bad habits. Since the birth of my first child in September 2001, my wife's desire for sex reduced gradually and we resorted to a normal sex life only to give birth to our next child in January 2006.
After that, her desire has reduced drastically and she does not even feel the need. I have not forced her, but sometimes she accedes to my request just to satisfy me. Is there any medication to increase the desire for sex in women?
Thank you,
Anonymous
HSDD, or Hypoactive Sexual Desire Disorder is a very common condition in women, has many causes, and is often difficult to treat. Diagnosis involves detailed history-taking, often employing elaborate questionnaires and investigations. For further assistance, please contact FemaleSexualHealth@Gmail.com
---
Dr Sudhakar Krishnamurti is an international award-winning andrologist and microsurgeon. He is the only Indian on the world's first-ever batch of sexual medicine fellows (Oxford, 2007). Best known for the Krishnamurti Operation for Peyronie's Disease, he is also the founder of Andromeda, India's first andrology center, and author of the book Sexx is Not a Four-Letter Word. Click here to purchase the book from rediff Shopping.
Disclaimer: Please note that Dr Krishnamurti will be answering the most relevant queries at his discretion each week. His advice may not necessarily reflect the opinions of rediff.com and while it is in the capacity of professional medical counselling, it in no way should be considered an alternative to visiting a medical specialist for sex-related ailments.