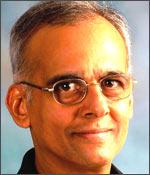 Andrologist and microsurgeon Dr Sudhakar Krishnamurti will be responding to rediff readers' sexual queries on a regular basis.
We invited Get Ahead readers to mail in their questions. Here is the next set of responses:
---

Dear Dr,
I am 39 years old and have been married for 10 years. I have two children from my wife through IVF. We were having sex even during our college days and used to have 2 or 3 sessions a day and this got reduced to once every day.
However, after my wife conceived the first baby our sex relations reduced and now for the past four years it has become a rarity, or rather a non-occurence. Now I seldom have an erection. Am I psychologically affected?
Why do I seldom have an erection during intercourse with my wife, but massage girls turn me on? What is the remedy? I cannot sustain an erection for more than a minute. Do suggest a means to maintain the basic erection requirement to please my wife. Our relations are strained due to my non-performance.
Regards,
Seeraj
It is a sad truth that monogamy can get boring unless couples work to sustain the novelty and excitement of lovemaking. Many couples fall into a predictable pattern that soon fails to stimulate either. Besides, if love and romance are dead, sex dies too. Your wife's preoccupation with the children could be another factor. At 39, you should be able to have hard, long-lasting erections. If not, you need an andrology check-up. Many bedroom situations like yours are discussed in my book, Sexx is Not a Four-Letter Word. It is easily available through Rediff Books.
---
Hi,
I am 27 years old and I don't know why I have a sexual fetish for long fingernails and the long hair of women (long up to their buttocks). Please give me appropriate advice. Why is it so?
A sexual fetish is defined as an object or bodily part whose real or fantasised presence is psychologically necessary for sexual gratification and that is an object of fixation to the extent that it may interfere with complete sexual expression. In most cases, fetishists enjoy their fetish and see it as their natural orientation, with no intention of changing it. All fetishism doesn't require treatment. If it is acceptable to both partners and does not cause any physical, relational, social, legal or other problems, one needn't make too much of it, and treatment is not usually necessary. However, if there is concern in any one of these areas or more, cognitive, psychoanalytic and medical therapy might help.
---
Dear Sir,
I am 36 years old and I am un-married. I have a penis size of one inch normally and in erection it is 2.5 to 3 inches in size. Soon, I am going to marry. My question is, will I be able to satisfy my wife with this size of penis? If not, please suggest penis enlargement medicine.
And, how should I have intercourse with her? Please help me with this problem. Please do not mention my name in your weekly column.
Regards,
Im
There are two important chapters (2 and 16), in my book, Sexx is Not a Four-Letter Word (Rupa), that discuss penis size, an important subject of human male preoccupation, in fair detail. The measurements of your penis taken by you may or may not have been done in the recommended manner. Please re-check your penis size using the method described in the book. The book can be easily ordered online from the privacy of your home through Rediff Books. Please note that there are NO medicines that can enlarge penis size.
---
Dr Sudhakar Krishnamurti is an international award-winning andrologist and microsurgeon. He is the only Indian on the world's first-ever batch of sexual medicine fellows (Oxford, 2007). Best known for the Krishnamurti Operation for Peyronie's Disease, he is also the founder of Andromeda, India's first andrology center, and author of the book Sexx is Not a Four-Letter Word. Click here to purchase the book from rediff Shopping.
Disclaimer: Please note that Dr Krishnamurti will be answering the most relevant queries at his discretion each week. His advice may not necessarily reflect the opinions of rediff.com and while it is in the capacity of professional medical counselling, it in no way should be considered an alternative to visiting a medical specialist for sex-related ailments.