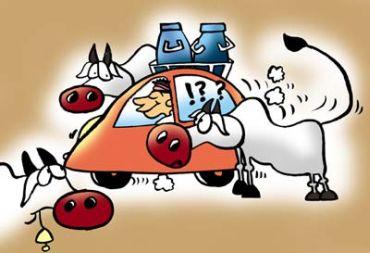 Ever had an amusing mishap while learning how to drive? Tell us all about it! Illustration: Uttam Ghosh
On August 23, we invited you to share their funny driving lesson stories with us. Here is the first response from a reader in London, who simply prefers to go by simply her initials, A.N.:
I passed my test in a few attempts, here in the UK, although I have had both an Indian and international licence for 10 years.
It's the bad habits which are difficult to get rid of, especially if you are driving in a country like England, where they are very strict with traffic rules -- you can see tremendous driving discipline among people. After all, Britain boasts of many F1 champions.
It's a country full of roundabouts and I was failed once for not looking into the rear view mirror (at both sides and centre). The second time I failed for not being able to park at one go in a bay -- this was a reverse parking manoeuvre. Maintaining lanes and not overtaking (except on the motorway) are also things I had to learn very strictly. And no honking unless you need to alert another driver of a mistake, unlike the 'Press Horn Okay Please' lingo of my dear India!
It is common for people here in the UK to fail 3-5 times before they get the licence -- this involves a very high fee and lots of driving lessons. I have friends who took between three and seven attempts and one of them even had a bit of wine before the driving test to calm her nerves -- it was her lucky seventh time! Another failed a third time for crossing a red light and almost killing a pedistrian, so it was only after his fifth test that he was lucky to be given the great British driving licence!
Send in your driving lesson experiences to us, along with a photograph, if possible to getahead@rediff.co.in (subject line: 'My driving lesson') and we'll publish the most interesting, witty accounts right here on rediff.com