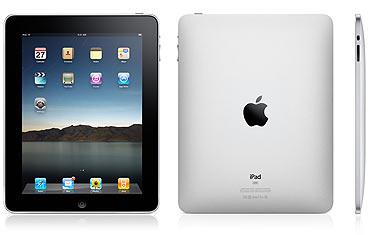 A
pple launched the much-anticipated iPad on January 27 and has set techies across the world dicussing all the iPad is and could be.
So we asked readers to send in what they thought of Apple's latest and whether the iPad will truly present the user with a unique experience. Here are some of the responses we received:
---
iPad is a killer appliance for e-books, games, video. The screen at 9.5 inches/25 cms is about the same as paper, magazines and so on.
The iPad has e-pub format as its default e-book format. Not some proprietary format. It means a lot of books are available to users. You can convert your books to this format as well.
Unfortunately you cannot load the converted book into the device since there is no USB or SD card for that purpose.
But comics with moving images would be a hit. You can get a sample at www.comixology.com/digital. 
Video is 720p higher than DVD quality. Only 4:3 format. Most of your movies are 16:9. So you will get big black bands at the top and bottom.
The 10-hour battery life is good. No user changeable battery.
You have to use Apple's own marketplace -- AppStore. No digital streaming of Bollywood movies. Or perhaps the producers will cut a deal with Apple and let us enjoy the movies.
Gaming is going to be a big deal. AppStore games are very cheap unlike their console (PlayStation, XBox, Wii) counterparts. The touch screen is a problem though.
The iPad is big enough to accomodate ports in some future version.
The application part, all components of iWork (Office replacement for Mac) work on this. You do have a keyboard. A shared folder is available to transfer to your Mac/PC.
It also has 3G/Wi-fi so connectivity is not a problem. Not having a mouse might turn out to be hard though. Nobody wants to touch the screen for everything.
Also, teh iPad only allows one task at a time, not many, meaning no multitasking.
But wait, you could buy an Indian take on this. Have a look at http://notionink.wordpress.com/2010/01/09/here-we-are/
-- Nithyanandan V, 37, software consultant, Kerala
---
For a start I love Apple products. Being one of the priveliged few to actually own an iMac and iPhone and having seen my close relatives on a MacBook, and loved all of it at the time, I am somewhat dissapointed with the iPad. For a start it looks like a big, big iPhone.
Surely it must be terribly tough making sure that this doesn't break or fall! I clutch onto my iPhone as if for dear life knowing very well that if it falls that's the end! And the iPad does not even have a protective cover making it so vulnerable to the elements and so so so easy to break. And surely Apple intends us to carry this around (vulnerable) or place it flat and look down on it like it's a plate of noodles or (awful) paying for the insurance that will strip you off royally so to say!
Surely the iPhone is a wonderful device no doubt, but when I imagine each of those applications on my iPhone to be around five-six times larger, it's surely going to be a bit child-like or probably going to look as if the application is for the poorly sighted (with due respect).
And imagine the market its targetting. The netbooks surely, even though Steve Jobs might call it rubbish, but the message won't go out on the iPad since it does not have an inbuilt camera/mic to track you as a netbook does. And if it does it would show the ceiling since it cannot stand upright. And if we have to hold it, it would again be quite uncomfortable. Which brings the important question, how do I chat with a friend on my iPad if I had one?
I am a big fan of Apple but Steve finally got it wrong with the iPad. I really wish I was not correct, but alas I am I suppose.
-- S Hydros
---
Apple's other iProducts are usually an improvement over existing products in that category and usually revolutionises the way people use them. A good example is the iPod which was not a brand new product in that category but it changed how people use it as part of their lifestyle. iPhone too is a good example.
But iPad's story is different. Though there are tablets/ handhelds/ pdas/ gaming consoles/ MIDs/ ebook readers already available, this machine doesn't fit any of the categories. It is a new product and is trying to create a new category of its own with all the above usages in mind. The usability and satisfaction should be seen in that context. In this regard, Apple's bold decision to introduce a new product is welcome.
It is a fine product just as any other Apple product. But there some quirks that needs to be mentioned.
One good example is how to hold this device? Whatever is the target purpose of this new device, either gaming or ebook or business device, the lack of a good holder/ handle to hold the device is a big disappointment. With a device of this size and with the glossy finish, I would have expected a way to hold the device safely, especially when the target audience of this device is frequent travelers.
Lack of camera, less pre-installed apps, flash are few other concerns.
Other major concern is Apple's proprietary attitude. The processor is Apple's own, OS is iPhone OS, app store is again totally Apple governed and the list goes on. If Apple expects it to be adopted widely, it sure might want to think about opening up some of these areas should not be hurting.
Otherwise this product looks awesome and might be a hit in India too. But wait, what I am saying? Apple had its flop products too.
-- Balaje Sankar, 28, Minneapolis, US
---
Reader invite:
Will the iPad be the run-away success Apple's mp3 player was? 
Would you consider buying the iPad?
Do you own Apple products? What has your experience been with the iPod or iPhone?
Share your opinions and experiences with us at getahead@rediff.co.in (with the subject line: 'My take on the iPad') along with your name, age and location and we'll feature them right here.
Photograph: Apple.com