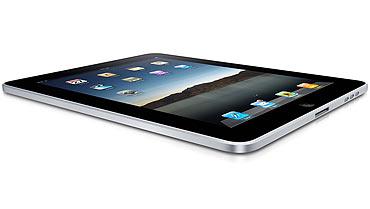 A
pple launched the much-anticipated iPad on January 27 and has set techies across the world dicussing all the iPad is and could be.
So we asked readers to send in what they thought of Apple's latest and whether the iPad will truly
present the user with a unique experience. Here are some of the responses we received:
---
You might love him or hate him, but there's no denying that Steve Jobs is a trend-setter. From changing the way you listen to music, to the way you use your phone, Apple has always been at the forefront.
The iPad is undoubtedly a new segment. Somewhere between a smartphone and a laptop, it promises the professional functionality of a laptop with mobility.
The iPad cannot and will not replace laptops. However, there's no denying its usefulness. A student will have to carry only a 0.7 kg device to class instead of a 2 kg laptop. It can be used as a textbook reader. Imagine dropping all your books home and carrying this one device to college. The iPad is undoubtedly the best e-reader out there now. The competitive pricing will ensure that products like the Kindle or the Sony e-reader will have to drastically drop their prices (and still not be able to match the iPad in terms of functionality).
For portable movies, games, photos and music the iPad will be perfect with its gorgeous 10-inch screen. The Wi-fi and 3G will ensure that you can stay connected all the time.
Negatives include no webcam and lack of multi-tasking. The webcam thing is a bit of an issue and Apple will have to resolve it possibly in their later releases of the iPad. As far as the whole iPhone OS debate goes; considering it's not replacing your laptop, I don't see why you need the Mac OS X. Adding that would simply shoot up the cost by at least 200 dollars making this product too niche.
Apple has created a new segment with the iPad. I feel that it will be slow to pick up and not an instant hit like the iPhone. But, within a few years, as prices drop, the iPad will be a part of our day to day lives like the iPod or the iPhone.
-- Bharadwaj Vijaysarathy, 21, Bonn, Germany
---
The fact that Apple was making a tablet device was a foregone conclusion for quite a while, thanks to calculated leaks on the internet from the company itself. I was one of the those who spent many a sleepless night wondering what the "Killer App" would be on the Apple Tablet. The rumour-mongers went crazy predicting the world (and then some). But for the first time in many years, the visionary in the black turtleneck let me down. I hate to say this -- but the iPad fails in both respects, form as well as function.
Under the 'Form' category, for starters, there was no game changer. It has a "brilliant" touchscreen (so does every other smartphone / music player these days), a "gorgeous" interface (if it ain't OLED, it ain't worth bragging rights) and 3G connectivity (but hang on -- you gotta pay more for that!). However, the iPad is too large to fit inside pockets (or handbags) and too small to handle standard workloads.
In my personal opinion, Apple had to walk the tightrope between keeping the price down and the wow factor high and
slipped in the side of the former. In fact, an iTouch can do everything an iPad can. Thanks to the apps, the iTouch made the seamless transition from being a portable music device to a lifestyle digital accessory. Sleek laptops running Windows 7 are available at $499 these days. They might not be a head turner, but they sure can multitask -- something elementary, that Jobs failed to add to the iPad.
Forget the killer functions that were predicted like a rollable scratch-proof OLED screen or a inbuilt multimedia projector or a video conference ready camera or Bluetooth enabled phone function...I would've at least liked  to see a DVD drive (so that I can watch my movies on the tablet) or some USB slots (so that I can connect my camera or my external hard drives). Seventy per cent of all websites use some form of flash content and a media device dedicated to browsing does not support that ? Gimme a break... or should I say, gimme an iBreak ?
Maybe Apple still has some tricks up its sleeve for future versions -- but at current state, the iPad is nothing more than some rich kid's overpriced toy.
-- Anand K, 35, Pennsylvania, USA
---
I am a very big Apple fan and currently use the Macbook and an iPhone. I have heard a lot of people criticising the iPad for a variety of  reasons and most of them are justified. However, if one takes the right perspective, iPad will seem useful. iPad, for me, is a fantastic eBook reader that can do so much more. If people consider it to be a netbook or a laptop they are bound to be disappointed. But as an ebook reader I think Amazon and Sony will take a huge hit.
Apple has also confirmed the start of an iBooks (on the lines of iTunes) store with five of the world's top six publishers already signing up to be part of the store. Apple has always shown the world how to do things properly. It did with the mp3 players, smart-phones and laptops. Now it is again showing the world how to make an ebook reader properly.
-- Mayank Sinha, 28, New Delhi
---
Reader invite:
Will the iPad be the run-away success Apple's mp3 player was? 
Would you consider buying the iPad?
Do you own Apple products? What has your experience been with the iPod or iPhone?
Share your opinions and experiences with us at getahead@rediff.co.in (with the subject line: 'My take on the iPad') along with your name, age and location and we'll feature them right here.
Photograph: Apple.com