The vice-chairman and gardener of MindTree and author of three business bestsellers, Subroto Bagchi believes that no matter how privileged you are there is no substitute for hard work. Here he shares his story of success.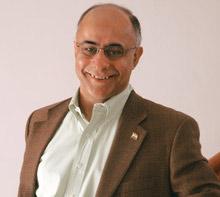 We were raised in the tribal districts of Orissa where I studied in government schools, until Class 11. But as compared to countless other men and women in this country, I actually feel privileged due to my upbringing.
Most children walked bare feet, some wore rubber slippers, and if anyone ever wore shoes, the other children shunned them as snobs. Only in Class 11, my father could afford to buy me a cycle.
He told me that if I promised to score more than 90 per cent marks in optional mathematics in my final examination, I could have the cycle. The deal was done, I had the bike. It was my life's first forward trade.
But the reason I said I feel a lot more privileged compared to many other similarly situated people is that I had the opportunity to be groomed by parents and elder brothers who created a sense of higher purpose in everything I did. From the time that I was a little boy, I was asked to build very large, sometimes global ambitions. I was constantly told that there is a larger world out there and if I did my English, science and mathematics right, I could have it all.
There was no time for self-pity! But sometimes, we complained. We cited examples of children who went to English medium boarding schools, of children whose parents could afford to buy them cricket bats and children who lived in big cities. My mother, herself a matriculate of the 1930s but who took as much care to hold aloft the value of education as my father, would immediately hold aloft the example of a boy, a few years senior to me, who used to come from ten miles away.
His name was Maguni Barik. He did not have a father. His illiterate, widowed mother literally had no support. Maguni Barik had one pair of school uniform. But despite all that, Maguni Barik made it to the best 10 list among all high school students in the state in his year of graduation. He was not only among the poorest students, his name in Oriya literally means, the one seeking alms!
There was no arguing against that one. We would simply shut up and go back to our books. I wonder where Maguni Barik is today. But I know that the likes of him are all around. All we need to do is look.
From ordinary upbringing, today I have the privilege of co-founding and leading MindTree, which has emerged as one of India's most admired companies. Here, I am not alone. People like me and more importantly, people like Maguni Barik are celebrated.
We are together stepping into a future in which what you know is more important than who you know. More than ever before, the future belongs to us. This would not have happened but for the emphasis on education at an early life and an abiding sense of vision that substituted for everything else.