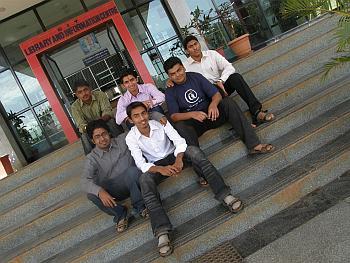 At 20 not many youngsters dare to start their own company. At least not when they are students preparing for their final semester to graduate as engineers.
Two eighth-semester students, Manoj Nair and Sandeep Hegde of Gogte Institute of Technology, Belgaum, could be counted amongst those who do just that.
With support from their college's management, principal, staff and students and their parents these two registered their company dotCORD IT Solutions in February 2009, even as the winds of a full blown recession were gathering globally leading to mass layoffs, and has had a successful run ever since.
In just 11 months they have notched revenues of Rs 5 lakh with about 12 part-time employees (all college students from GIT who work only in their spare time without sacrificing their studies), an office in the college premises and only their clients' word of mouth marketing praising the quality and professional ethic adopted by dotCORD.
Currently the company is into customised software services, online advertising solutions, IT consultancy services and search engine optimisation services.
Interestingly, they will not be participating in the campus placement interviews at GIT this year that will be graced by IT biggies from Bengaluru because they believe that their own company will give them more freedom to implement their ideas and be responsible for their success or failure.
Manoj, who's pursuing computer science and Sandeep studying information technology spoke with Prasanna D Zore about dotCORD's business plan, vision and dos and don'ts that students entrepreneurs like them should follow to succeed.
How did you come together to start dotCORD?
Manoj: Both of us got together for a contest sponsored by IBM. But our technology expertise was different from what they were asking for. They were asking to use only IBM products whereas our technology was based on something else. Disappointed we quit the contest and started doing smaller projects starting with building our personal and our college Web site. This is how it actually started off by chance.
How do you attract business for your company?
Manoj: First of all, you can't compare our company with any full-time company. We are managing our studies full-time and the rest of the time is dedicated to dotCORD. It's only during holidays that we work full-time.
Most of our client base has increased through the word of mouth because we deliver the best quality work to our existing clients and they refer our company to others who they know need similar kind of quality. We have never approached even a single company to pitch for work. It is now potential clients asking us if we can provide them a particular kind of service.
Sandeep: We have registered our company only in Februay 2009 and in the last three quarters we have earned enough to pay everybody's salary because of sustainable growth. For the first 11 months we have generated revenue of approximately Rs 5 lakh.
Though we have expansion plans for the future currently we are not pitching with potential clients to garner business.
How do you juggle between your studies and business?
Manoj: To be honest we have to manage it anyhow. So far we have not had a solid plan as such but things have been falling into place. We do sit late nights at office whenever there's work pressure.
We have a good academic track record. I have scored around 70 per cent in all my semesters till now and Sandeep has scored 60 per cent.
How many hours do you put in everyday?
Sandeep: We don't force any of our employees to put in long hours at work after college. We all try to put in at least six hours of work everyday after making adjustments to our daily schedules. Sometimes we may not work continuously. Whenever we don't have lectures we come and work. Since the office is in the college itself we can come down and work whenever we are free.
What's your clients' feedback like?
Sandeep: Most of our clients (40 and counting as the word of mouth) are from references. That shows how satisfied they are with the quality of our work and our professionalism. That's the reason our client base has been increasing steadily as they refer other people to us because of the quality of our work and professionalism.
Wouldn't you like to work for IT majors like Infosys, TCS, Mindtree or Accenture who have been visiting your college for campus interviews?
Manoj: Campus placements are going on right now in our college and many of them (including our employees) are going for them. However, neither of us are interested in attending them. Being co-founders of an IT company we have direct access to other IT companies. We see more growth potential – both personal and professional -- in dotCORD than by working with Infosys.
Sandeep: The question we ask ourselves is: Are we going to make any difference to any of our potential employers by working as part of lakhs of employees of these companies. In dotCORD I have the freedom to implement my ideas and take responsibility for their success or failure.
Dos and don'ts for student entrepreneurs...
Sandeep: I think you should believe in yourself and aim high.
Manoj: One must have a solid plan of action and see to it that it is implemented. While many startups have a plan of action they fail to implement it successfully. I don't think we followed any strict pattern as to do this and do that. We were flexible and dynamic enough to change and adapt to a given situation.