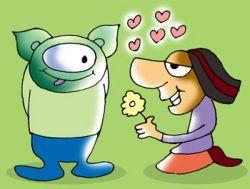 Having trouble asking someone out? Kanchan Maslekar spoke to a few youngsters who are familiar with the dating game -- here is their advice! Illustration: Uttam Ghosh
Have you always wanted to ask that special someone out but didn't know how? Well, with Valentine's Day around the corner, what better time than now to muster up your guts and actually get around to doing it?
Fear not, we're here to help you! So bring those sweaty palms under control and read on for tips on the right way to ask someone out!
Get in a little bit of practice
Of course, practicing is a good idea to get a grip on your nerves. But make sure you don't overdo it. You don't want to sound like a tape recorder. Leave some scope for last minute alterations and spur-of the-moment remarks.
"I would like my guy to be spontaneous -- or at least act spontaneous!" says Riya Raheja, a first-year commerce student from Pune.
Adds Delhiite Sameer Mahajan*, 18, "While most guys like to be asked out, they also need to be convinced that you are not in the habit of asking everyone out. We need to believe that the girl is feeling something extra special and hence asking us out."
The trick is to sound very natural, but make sure you end up saying everything you intended to -- or you'll kick yourself later on.
Etiquette
There are several ways of asking the question. Many think it's best to ask someone out in person, so that you can gauge their reaction and vice-versa, but it's not a bad idea to ask on the phone, e-mail, or send across flowers with a note and then call either.
"If after sending flowers she takes the call, that means she is interested. If she refuses to answer, you should get the message!" says Virendra Saxena, a second year engineering student, from Indore.
But Pankaj Johari, a BPO executive from Pune, disagrees with the idea of flowers altogether. "Sending gifts while asking someone out is like bribing the person. Gifts can be a token of respect and admiration; they are okay and even cherished as you're getting to know each other, but they can also be too much if presented too soon," he says. "And avoid asking for a date on the answering machine or on voice mail."
Sixteen-year-old Anisha Shah* from Pune adds her own take to this: "I think it's kiddish to ask for a date through a third party. It's cowardly and rude. And it's a must for a guy to give you some amount of time before asking you out."
Preparing for the big moment
Riya and her friends have some friendly advice for all guys and girls who are going to ask someone out:
Relax and take a deep breath.
Make sure to wear an outfit that gives you confidence. This will keep you comfortable and give you the courage to make your move. A very tight dress, a plunging neckline or tight tees will make you self-conscious and uncomfortable.
Smile, even if you are on the phone.
Concentrate on what you and the opposite person are saying. Keep your mobile switched off and don't get distracted.
Make sure you use the person's name when you ask him/ her out ("It feels really nice!" adds Riya).
The conversation
As far as possible, try to get the person alone to invite him/her out. It makes life easier for both of you. "It is always recommended that you start off the conversation with some general talk. Talk about stuff for a while before you ask 'the' question," says Riya.
"Learn about the things s/he likes. It improves the quality of your conversation and your partner will love you for it. I love it when my guy talks about Bollywood, as I am a huge movie buff," she adds.
Finalising plans
"You don't have to finalise your plans then and there. You might want to do that later; ask for some time and meet or call to finalise your discussion," advises Pankaj.
Find a day which is convenient to both of you. "Most girls will not want to go to a scifi movie or a football match, so avoid it," advises Radha Mirchandani, a collegian from Nagpur. "Athough girls like surprises, they like to be consulted about the place."
After you've received your 'yes'
Do something to make him/ her feel special. Send a card, give a flower, compliment him/her, send an SMS or a short e-mail. Anything to indicate that the 'yes' is appreciated.
Also plan your date carefully. "Make sure to iron out all the details," says Anisha. "Like if I ask a guy out, for instance, I would prefer to pay unless he insists."
Dealing with a 'no'
Hmmm. "It's easier said than done," says Virendra. But he also wants to convey to girls that the courage they mustered up to ask a guy out in the first place will do wonders for their self-confidence when it comes to approaching the opposite sex.
His advice: "Just deal with it. If you want, you can give it a shot again after awhile or simply find someone else. It's useless chasing or nagging a person to go out with you. And its even more idiotic to sit and sulk. After a while, get out there again and find the best person for you."
A few more tips
Be yourself. You want the other person to like you for you, not some put-on.
Take a deep breath and try to stay calm. Remember, you are interested, but not desperate.
You need to feel good to look and act good.
Don't be too aggressive; assertiveness is attractive, but hostility is not.
Even if you have asked someone out, it does not mean you are obligated to do anything you don't want to do -- this is specially for girls who do the asking. If you feel uncomfortable, extricate yourself from the situation right away.
*Names changed to protect privacy.