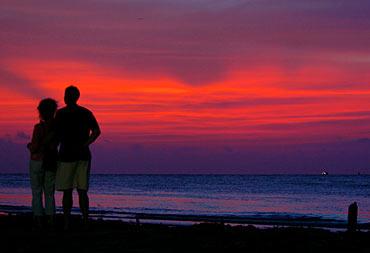 The most interesting VDay dating ideas -- vote and tell us! Photograph: Dipak Kumar/Reuters
Are you the kind of person who's always looking for new, interesting things to do with your partner on Valentine's Day?
What are your plans for this year? If you haven't thought of anything fun, you can always take your pick from the suggestions offered below.
And while you're at it, let us know what you think is the most romantic idea!
Would you prefer to visit an art gallery, followed by an intimate lunch or cook up a meal together and read poems you've written to each other over dessert?
Would it be a picnic in the park or a walk on the beach?
Simply mark off your favourite suggestion below -- and if you've got an idea we missed, let us know about it on the messageboard below!
Check out all our Valentine's Day Specials!