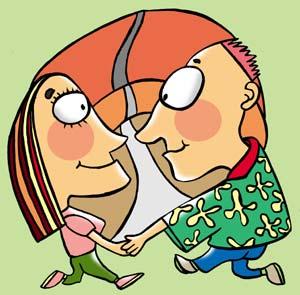 Valentine's Day has rolled around once again and if you're lucky enough to have someone special to celebrate with, you're probably thinking of the best spot to take him or her. Now, there may be plenty of places you could go to, but if you want to make sure it'll be a day that will be remembered forever, try and avoid these:
Pubbing/clubbling
Valentine's Day is a time for togetherness, and let's face it, it's hard to get romantic when you have thumping music and a few hundred people gyrating all around you.
What you could do instead: A romantic evening on the terrace should do the trick. Set up a little table with fresh flowers and dinner laid out. Have her/his favourite music playing in the background and you're all set.
Coffee shop
This you can do any day of the week, so why waste this Valentine's Day just grabbing a cup of coffee. Sure, it might be easy on the wallet and a comfortable setting but that doesn't mean that this is your only choice.
What you could do instead: A nice little picnic in the park. Just pick up a thermos of coffee, pack some sandwiches and a pastry that the two of you could share and you're ready to go!
Dinner and a movie
Most eating joints will probably be bursting at the seams, one because its Valentine's Day and everyone will want to go out and secondly it's a Sunday, so families (with kids and grandparents in tow) are out as well. Chances are you'll be waiting outside your favourite restaurant for a table for quite a while (which can be a major mood kill!).
What you could do instead: Stay home, rent a movie, switch off your mobile phone, dim the lights and get cosy on the sofa.
Out of town
The fact that Valentine's Day falls on a weekend this year can be a good thing and a bad thing. Good, because you can spend a whole two days together. Bad because most people will grab the chance to head to the nearest beach or hill station, meaning that getting a booking will be hell if you haven't already made one.
What you could do instead: Instead of scrambling around for a booking and driving out for hours, plan some fun-filled activities for the whole day in your town or city itself -- you could visit all the places that hold some sentimental value for the two of you like where you went on your first date, your first drive together, even where you had your first fight! It'll bring back fond memories and give you a chance to bond all over again.
Check out all our Valentine's Day Specials!