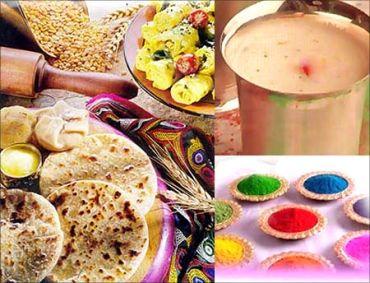 We invited readers to share some of their favourite Holi recipes with us. As part of an ongoing series, here are four recipes that you can prepare for friends and family:
First up, is Sweet Noodles Kheer contributed by Vilas Deshpande:
Preparation time: 1 hour
Ingredients: Fine noodles or vermicell, ghee, milk, dry fruits, cardamom powder, kesar, sugar,
Instructions
Boil milk for around 1/2 an hour to thicken it and leave for cooling
Add sugar, cardamom powder and dry fruits
Keep a portion of cardamom powder and dry fruits aside for seasoning 
Shallow fry noddles till colour becomes golden brown
Add milk mixture to the noddles
Cook for 5 to 8 minutes and leave it to cool
Add remaining dry fruits and cardamom powder and kesar before serving

*****
Next up is Neelam Dewani's recipe for Mawa Gujiya:
Preparation time: 1/2 hour
Ingredients: Maida 250 gms, mawa (khoya): 125 gms, grated coconut (dry)1 bowl, finely cut dryfruits and sugar as needed, oil for frying.
Instructions
Knead maida with ajwain (carom seeds)into a soft dough and keep aside for half hour.
Mash mawa and fry in pan till it turns light brown.
Mix grated coconut, sugar, mawa and dry fruits.
Roll dough into the size of a puri and fill half with the mawa mixture.
Fold and press the sides so filling does not spill out. If you have a gujiya mould, put the rolled dough in it. Fill mawa mixture. Moisten edges with milk and fold the mould. Remove excess dough from the edges.
Heat oil and deep fry the gujiyas till they turn golden brown.
Decorate by covering it with chandi ka varak (edible silver leaf)
*****
Next Rinshu Kumar shares her mother's recipes of Narangi Sherbet:
Preparation time: 30 minutes
Ingredients: 5 fresh, juicy oranges, 200 grams fresh curd, 2 tbsp sugar and a pinch of salk
Instructions
Sqeeze juice from the oranges
Pour the same in a juicer
Add fresh curd, sugar and a pinch of salt
Mix well for two minutes
Chill in refrigerator for 30 minutes before serving
*****
And finally, here is Umesh G's recipes of Shahi Ras:
Preparation time: 30 minutes
Ingredients: Milk 1 litre, sugar 125 gms, khoya 100 gms, dryfruit powder 2 tbps, elayachi powder 1/4 tsp, kesar 1/4 tsp, 2 bread slices (cut small round button shape), desi ghee 100 gms.
Instructions
Boil milk to thicken (till it reduces to about 750ml) and then mix the sugar
Heat khoya in a pan for 2-3 minutes and keep aside
Heat ghee in a pan and golden fry the bread buttons and keep aside
Mix the khoya, dryfruit powder, kesar, eliachi powder in the milk
Pour the mixture in a bowl and add the bread buttons before serving.