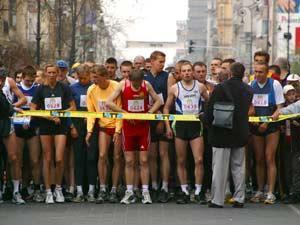 With the Mumbai Marathon around the corner on January 17, here are a few things you should keep in mind a day before, during and right after the race.
Running a marathon is quite a challenge. Anyone who really likes running should participate in a marathon at least once. It gives you a different high altogether. However, running a marathon isn't a last minute job; it requires months of training in advance. If you are an avid runner, the start of the year gives you an excellent opportunity to reassess your running spirit and prepare of a marathon in the coming months.
Running a marathon is a 5 step process:
Commitment to take part in the event
Starting the training for the event
Running in the actual event
Recovery
Reassessing success/ failure
Although it is quite difficult to summarise an entire training guide into one article, we can certainly give you some last-minute preparation tips.
A day before the marathon
Set a realistic goal and put together a race strategy.
As this is the last day of the tapering process, stay off your feet, rest and relax. If you really want to, go for a small stroll in the park.
Eat carbohydrates during the last three or four days before the marathon. Have a light dinner on the night before the race, as it takes at least 24 hours for most of the food you eat to be processed. On the afternoon and evening before the race, eat small meals and taper down the amount as you get closer to bedtime.
Avoid trying new food on the day before the marathon as it may not agree with you. Stick with foods that have worked well for you before your long training runs.
Do something engaging. Watch a movie or read a book that you find inspiring.
Drink plenty of fluids throughout the day. Double your water intake.
Rehearse with your racing gear, make sure it fits perfectly.
Get your race backpack ready. Fill it up with your running attire, race-timing chip, race number, safety pins, some protein bars and some electrolyte drink like Gatorade.
Make sure that you have everything that you need for your morning breakfast.
Mentally prepare yourself. However, you shouldn't psych yourself out. Remain calm, focused and convinced that you're ready to go.
Stay off alcohol, smoking and caffeine.
Sleep early on the day before your race so that you can wake up early. Try to get a good 8-10 hours of sleep. However, don't worry if you don't sleep at all; most people do not sleep well the night before.
Don't forget to set an alarm. Set an alarm such that you get enough time to eat breakfast, get ready and reach the race start point early.
The day of the race
Wake up early and have a nice warm water bath. This will enhance your blood circulation
Have a good high-carb breakfast along with some orange juice. Avoid high fibre and fatty foods as they may cause digestion problems.
Drink plenty of water, but don't over do it otherwise you will be peeing a lot. A good idea is to drink 200 to 300 ml of fluid about two hours before the race.
Wear your racing gear and use some moisturiser and vaseline to avoid chaffing.
Lubricate your feet as well if you usually get blisters.
Don't forget sunscreen.
Don't let yourself get nervous and jittery.
Try to go to the venue in a vehicle so that you are very fresh at the start.
During the race
Just before the race, warm up for 10-15 minutes. Make sure you gently stretch all of your muscles.
Start slowly, otherwise you will lose energy quickly.
Maintain a steady pace at the start so that you do not run out of steam too early.
Conserve the energy as you will require it to finish strong during the last few miles.
During a race, you need 30-60 gms of carbs per hour and about a cup of water every fifteen minutes. Eating energy gel is a great way to replenish the energy during the run. Enjoy refreshments that are served alongside the racetrack so that you are well hydrated.
Have an awesome time.
Have a big smile at the finish.
Immediately after the race
Don't stop immediately. Try an easy jog or a walk of 10 minutes or so. A cool down after finishing is important.
Ask for ice to massage any sore areas.
Have a quick post-race snack along with loads of fluids. This will replenish the energy that you have just lost. Try having Gatorade instead of water as it will replenish the electrolytes as well.
Click loads of pictures; live every moment of it.
The day after the race
Have a cool shower or epsom salt bath.
Post-race depression is quite common so go watch a movie and spend some time with your loved ones.
Take care of those blisters that you suffered during the race.
Don't do any strenuous activity on this day. Go for a walk in the park or by the lake but NO running.
Do some light stretching.
Reassess your success/ failure factors and note them down in a book for future reference.
Take a break from training for the next couple of days, or even better go, take a vacation -- that is bound to refresh you.