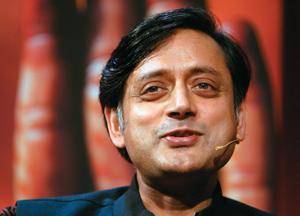 Minister of State for External Affairs,
Shashi Tharoor
completed his PhD at the age of 22. The author, politician and former UN Under-Secretary-General chatted with
Sumita Vaid Dixit
about his passion for writing, tweeting and world affairs.
His advice to students: education is NOT about 'mugging' but training yourself on how to think.
You have written more than 10 books but you neither became a writer nor a journalist.
I was always interested in world affairs. Although I was born in London we moved back to India, so I grew up thinking as an Indian, and I wanted to engage with the world as an Indian.
You were 10 when your first story was published. Were you paid for it?
If I recall correctly, I was paid Rs. 50, a large sum at the time!
Do you get the time to write these days?
Not anymore, in politics. Sadly, tweeting is all about the time I get.
Not only do you tweet, but also meet fellow tweeters, I am told.
Tweeting is a great way to reach out to people and individually answer their questions. When I was at the United Nations (UN) I tried to demystify the UN for the general public. And here in the government, I would like to demystify some of the processes of governance. I believe, in a democracy governments should be accessible.
Twitter is almost like an interactive Aakashwani. Messages  I send out reach about 3.65 lakh people, which is more than the votes I got when I was elected as an MP.
Politics is still an unlikely career choice for many young men and women.
This is a middle class attitude which certainly exists to this day. My own mother shares that politics is not for the kinds who study hard and go into the professions. But that surely needs to change. More people should join us. I was happy to have the opportunity and gave it a crack!
Are you in favour of international universities coming to India?
International education will play an important role in the transformation of the country. American institutes such as Massachusetts Institute of Technology, Harvard, Yale are coming back to India after their first visits.
So, you see, the reason why more than 90,000 students are going to Australia is because they haven't been able to get admissions in good institutes in India. We can easily double, triple the number of universities in India.
But setting up more universities alone will not resolve issues in our education system?
One of the purposes of any education has to be well-formed minds, not well-filled minds. It's not just mugging up a subject it's about training yourself in how to think. Ultimately, the challenges you meet in the classroom stay in the classroom. But the way you tackle those issues are the skills that will hold you in good stead in real life after academics.
Do students have more career options now?
Young people have to aspire to be the best they can in the circumstances available to them. The exciting thing about young people of India today is that options and opportunities are much greater than they ever used to be. Life is too short to do something that you don't want to do! Purse your own desires, your own aspirations, and your own dreams. And today's India will give you the opportunity to fulfil them!