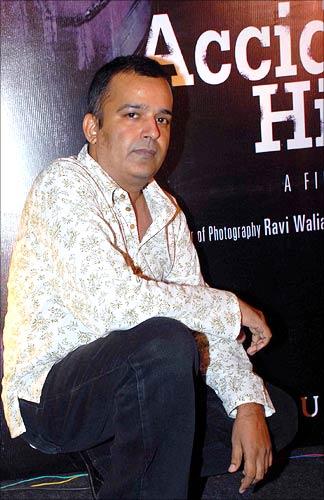 Journalist turned filmmaker Mahesh Nair, will make his directorial debut with his feature film, Accident on Hill Road later this year. The film stars Celina Jaitley, Abhimanyu Singh and Farooq Shaikh and is scheduled for release on December 31, 2009.
But the road has not been an easy one. He chucked a job offer of Rs 1 lakh a month to become a struggler in the film industry and has seen many ups and downs since then.
Here shares his experience with our Chief Correspondent, Syed Firdaus Ashraf.
From journalism to film making, what inspired you to be a filmmaker?
Basically, the format of telling stories. As a journalist you write stories and you are restricted by amount of space. If you write a news report it takes less space and if it is feature then you write more but later on you get bored of that. Most people get burned out (laughs).
So you got burned out as a journalist?
After doing the same thing over and over I got bored and so I left print and took up television journalism. I did print journalism from 1985-1992. In 1993, I moved to TV. I went in early. There was only NDTV that had a programme that I could do at that time. I wanted to do stories -- the CBS kind, like 60 minutes.
I continued with journalism and was a consultant to Business Today magazine and I also did television. I worked with Romesh Sharma who made New Delhi Times. In television you realise you are doing the same work with different technology. You need camera, sound and you need an editor. When you get into TV you realise that you have to be
dependent on other people too. If anybody makes a mistake through this chain, your story gets messed up.
I remember when I interviewed Mahendra Singh Tikait. I interviewed him for over one hour and later on found out not
more than one minute of clip was used. So, I learnt all the technical aspects of television. And again in three years time, I started getting bored of that format. Then I realised that even if I did a story for 10 minutes or 20 minutes, TV news didn't have that kind of format. Therefore, I moved into documentaries to do longer stories.
Which documentaries did you work on?
I did series of documentaries for the BBC. They commissioned six of them, and I did three. One of them was on the underworld in Mumbai and it was called 'City over Fear'. This was in 1998. It was 25-minutes long. I went to Azamgarh, New Delhi and then Mumbai and did the story. I did one on the World Cup and one on business families of India.
These three documentaries gave me an idea of how much fun it is tell great stories. After that I realised that if I had to tell a story I had to come to Mumbai. I also joined Rediff as a consultant. At that time, I did a documentary for BBC on dabbawalas. This was significant because it was given a sigma six rating by Forbes. That was a well-acknowledged documentary at that time.
As a child you were always interested in telling stories?
Yes, I used to write fictitious stories. I used to read all Amar Chitra Katha books. I loved comic books. Most of my hand writing classes, I used to copy from James Hadley Chase.
This was in Kerala?
No. I was born and brought up in Jabalpur. My father was in civil defence then we moved to Chandrapur. It was like an Army cantonment area. I did my plus-2 in Nagpur and then went to Madras Christian college.
So you have traveled all over India...
Yes, basically I am a small-town boy though. I think it helps as a filmmaker, because you can understand the mentality and the way things happen in other towns of India. You realise India is not situated in Lokhandwala and Bandra of Mumbai. You have a new crop of people coming into films. Like Dhoni and Yuvraj, there is a new crop of people from small towns. Vishal Bharadwaj, Anurag Kashyap, Imtiyaz Ali and others are all from small places and they have refreshing stories to tell. I hope I have some too.
How did films happen?
As I said I started with documentaries. When I did the documentary on the underworld, my cameraman was Hemant Chaturvedi. He took the documentary and showed it to Ram Gopal Varma. On that basis, Ram Gopal Varma hired Hemant for Company. In fact, there are lot of references to my documentary in Company. That is how I got the film connection. Now, Hemant has shot Kurbaan as a cinematographer. Another camera person, with whom I shot the BBC documentary, was Ravi Walia who is now the cinematographer for Accident...
You gave up your lucrative six-figure salary to join films, I believe. Why?
I was in Mumbai for long and whenever I went to a producer and said I wanted to make films they asked whether I had assisted anybody and I said no. Then they asked how I could possibly make a film? I said, I could make a film because I learned everything I needed to know when I worked in television. All I needed was the money. They refused saying that they would not help until I had assisted someone.
How did you enter the film industry?
I then tried meeting Mani Ratnam. I made a list of people whom I wanted to work with. On the top of the list was Mani Ratnam, I admire him very much. I chased him almost for a year but he never came online. He is very shy. He was either working on a script or his project was ready.
Later on, I realised that as a director you need to work with a team and you get used to that. You'd rather go with the same team. It was tough for me to sit in Mumbai and get work with Mani Ratnam. Everybody asked me, why do you want to assist when you are doing so well in journalism and documentaries? Assistant means you've come out of college. I was almost 30 then.
It didn't work with Mani Ratnam. So the second on the list was Shekhar Kapur and he had disappeared to London. He was working for Four Feathers. The third one was Ram Gopal Varma. I met him many times and everytime I met him, he didn't know me or he pretended that he didn't. I told him that I wanted to assist him. He told me to assist one of his other directors but I said no. I told him that I wanted to learn what I needed to under him or noone at all. He liked my attitude and said okay.
That was your entry point?
Getting to Ramu took 18 months.
Is the film industry that difficult for an outsider to get into?
At that point of time, yes. Right now, there are more people. I had also started my own internet company in between called soundpicture.com and after one year I shut shop. I did so because at that time broadband internet didn't pick up. I closed in 2003 after starting in 2001.
Which film did you began with?
I was supposed to begin with Ek but that didn't take off. Fifteen days later, I was on Naach. At that time I got a job offer from a channel. It was a five-figure salary and a good job in New Delhi. At that point of time, I had Rs 400 in my account. I didn't have money to go to New Delhi so the channel spent the money on my flight tickets. After talking for two hours, I got a Rs 1-lakh confirmation offer. I came back and spoke to my wife (Payal) and decided I would make films. I said: "I will try and something will come out of it."
You joined Ramu then?
Yes, I called RGV's office and told him that I wanted to join him. He made me an offer. I asked him about money and he said, Rs 50,000. When I went to read the letter I found out it was Rs 15,000. I informed the secretary that it was a mistake and she told me that nobody gets that kind of money. She went back to Ramu's room and he said, "Of course it is Rs 15,000." I could hear Ramu say that and when she came back and told me that I was completely shattered.
When I started my journalism career in Delhi I was earning Rs 15,000 in 1990. So after all these years, it was like a reverse process. But I still joined him and became Chief Assistant on Ek and then Naach which took off. I followed my heart.
Do you trust your heart or your mind when taking such decisions of life?
The basic funda of film making is that you need to be excited about what you are doing. If in the morning you get up and say, 'I want to be a filmmaker', it is not going to help you. You have to have passion. Passion is something that has to continue. It is not like lust. It is not like seeing a woman and feeling, 'I want to have her' and the next day morning you say, 'I want somebody else'. You can't do that. You need to get up and have the same dream.
But how did you keep the home fires burning?
In the process I did corporate films and some freelancing work. I wrote an article here and there. You have to do all that stuff. If you have to make a film you have to have the passion. You can't let go because you are not getting a chance now. As I went through it I found that everybody has gone through the struggle, unless you belonged to a film family, where your dad or your uncle will finance you.
If you are not and you are a middle-class boy with no links to film industry and want to make a film, the first thing to learn is to have patience and have passion. If you don't have these two things then you are in the wrong profession. Thirdly, you have to look for your dal roti. You do something, anything to keep that going and if you are supported by your family then well and good.
After Naach in 2004, you moved out of RGV's project?
No, I wrote a last draft of Ek. He had it and said he would do it on a large scale. He was thinking of casting Amitabh Bachchan, Ajay Devgn, Suniel Shetty and others. It was a big project. The only thing he wanted was to have an international actor. In the meantime, Percept took over and they and RGV went to pitch for actors. ICM is a big talent agency for international actors. When RGV went there ICM didn't know who he was!
When he came back, he met me. The first thing he told me was, "Mahesh it makes no sense for me to be nobody in Hollywood and prove my credentials. I would rather be somebody in Bollywood and do my work." So the project was scrapped.
That was when I decided to make my own film. I pitched an idea to him, titled News. He loved the idea. He said, he would produce and I would direct it. For the next one year, I met many actors right from Ajay Devgn to Ritiesh Deshmukh, Vivek Oberoi, Arjun Rampal, Vinod Khanna and finally we had a team. Ritiesh and Arjun had agreed to do the film. At that time Factory went bust in 2006. Ramu had no money to pay, and I didn't get my salary for the last three months (laughs). By that time, my salary had increased to Rs 25,000. Finally, he said, he would not be able to do it.
Again back to square one and jobless?
Yes, back to square one. I went out on my own. I then went to KK, Vinod Khanna and Madhavan. Not a single producer wanted to touch the project. It was a fantastic experience. That time actors were available but no producers were willing to put in the money. This was the second lesson to me in Bollywood. You need actors on board who are saleable. These actors were not saleable then but today they are saleable; but again Madhavan and KK are not available at the same price they used to be.
Secondly, I went to production houses and they told me that my film would be made at a cost of Rs 3 crore and even if they mase a profit it would be about Rs 2 crore. It is not interesting to make Rs 2 crore profits. They wanted to make a film for Rs 30 crore and make Rs 60 crore out of it. So point blank I realised there was no market for such films.
But there were small-budget films being made, right?
At that time there were very few films. I always thought the story was the most important thing but later on I realised that the story was the least important thing in the film industry. What matters is you get star actors or you are a well-known director. Or if you have a banner like YashRaj or Dharma. Stories don't matter. It is a big myth.
When a movie flops everybody says, there was no story in it. Look at all the big flops this year. Later on people realise that there was no story in the film. Be it Blue or London Dreams or Chandni Chowk to China.
What about corporates in the film industry?
I wrote five scripts and it is hilarious how they work. Every corporate has a story content section where they have to sit and evaluate a story. I have not found a single corporate where when you give a story, the person who looks at the story has the ability to judge it. Because in the end, how do you judge a story?
Story is a very personal thing. I might like Jeffrey Archer but you may hate Jeffrey Archer. I might tell you what a great novelist Shobha De is and you may say, she is complete bunkum. Therefore, the best stories are made by individual producers or directors. Ram Gopal Varma, when he reads a story and gets excited by it then he knows how to make a film out of it. He can visualise the film which corporates won't be able to do. Ditto with any individual filmmaker. When Karan Johar sees he too realises it. They have the knack to understand and will go by their gut feeling.
Corporates are traders and they will look at proposals. They will not look at stories. Today, if I go to a corporate with three big actors nobody will look at the story. The problem here is that even individuals can go wrong with the story. Subhash Ghai, why is he going wrong? Aditya Chopra, why does he go wrong with Tashan or Dil Bole Hadippa?
You have to see whether the story will work for you and whether you have money and the guts to make a film on that subject.
In between you started a children's film?
Yes, a film called Katti. It was a children's film for producer Shailesh Singh who made Bas Ek Pal. We wanted to cast children but I told him to get actors. He wanted to get Sanjay Suri and Juhi Chawla. I had given up chasing actors by then. We shot for 10 days back in 2007. And when the time came to get the main actors, the producer could not get anybody. It was boom time and an actor who charged Rs 5 lakh started asking Rs 20 lakh. The guy getting Rs 1 crore started demanding Rs 6 crore and our project fell flat.
No actor in Bollywood wanted to play the father of an 8-year-old child. They will say Julia Roberts has done a great job in Stepmom but will never do the role themselves. This kind of experiment only big stars do and the lesser known stars will readily agree to join them, but if you approach them individually no one will agree.
And how did Accident on Hill Road happen?
Magna films did Brahm a year ago. It was not a good experience for them. They were looking for a director for this film. I met Nari Hira (owner of Magna) at his home. He said, "You come recommended by people I know. I want to make a small film and I want to start immediately." He gave me a DVD by stating that he a remake. He had bought the rights to the film and said he would give credit and acknowledge the source. The film is not a big film and did not even do well as the original.
So we got together as a team and finally our film Accident on Hill Road is releasing on December 31.