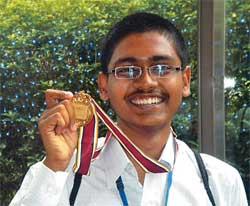 Vipul Singh from Bhilai (Chhattisgarh) achieved two accolades this year -- he earned the first rank in AIEEE and the fifth rank in IIT-JEE. He shares with Nitin Jindal his journey to the top, his hopes, and plans for the upcoming International Physics Olympiad in Croatia, this month.
Congratulations. Which institution are you opting for?

Computer Science branch at IIT Mumbai because I'm interested in things like logic and programming, and also because I'll get a good recommendation for further studies from there. Another factor is that IIT Mumbai's computer science degree has a very good value in the market.
So you plan to go for further studies after your engineering?
Yes, I plan to do my MS and PhD and get into research.
Now that the results are out are you enjoying the well-deserved break?
Not exactly. I am preparing for the International Physics Olympiad right now, which is being held from July 17-25 in Zagreb, the capital of Croatia. 80 nations are participating, India is being represented by five students and I am one of them.
How were you selected?
I was selected by the Homi Bhabha Centre for Science and Education, Mumbai. There are two national-level written rounds and the third was a camp held there. I cleared all three rounds and hence got this chance to represent India. At the camp, there were orientation lectures by professors from various colleges including IIT Kanpur and Guwahati. Then we had an experiment session and five tests; three experimental tests and two written theory tests.
Who inspired you? Who's your role model?
My parents have always guided me very well. They've always motivated me and inspired me a lot. There have been students earlier from Bhilai like Shashank Shekhar Dwivedi who secured AIR 1 in IIT-JEE 2003 and is currently studying in MIT Boston. Also there was Shariq Rizvi who secured IIT-JEE AIR 5 and is running his own company in the US. So from their experiences I knew it could be done.
How did you come to have so much clarity at such a young age?
I knew I had to go in this field and IIT was the best in this line. I was in class VI when Shashank topped IIT-JEE. My parents also knew about IIT well and told me about it. Then I participated in National Level Science and Mathematics Olympiad and I always secured a top 25 ranking. They told me that with such a good ranking I could get in the best IIT in the country, so I knew I had to go there.
When I was in class VII I had also participated in the India Child Genius Contest conducted by Mr Siddhartha Basu, I was the national semi-finalist and the East zone runner-up. I've been to many national-level quizzes after that and it gave me a lot of confidence when I won in these where participants were from all over the country.
So I knew I was amongst the top in the nation and knew I could do it!
When and how did you start your preparation for IIT-JEE?
In class VII and VIII. I was clear that IIT was my target. In class IX I started studying advanced topics, and joined a Brilliant Tutorials correspondence course. If there was any topic in the NCERT textbook, it was covered in the Brilliant course with higher concepts.
For example, if there was something about mechanics then it used to cover Newton's Laws, which are actually taught in class XI. So I had some idea of what was going to be taught in class XI, too.
What helped you score such a high rank? Was it coaching or long years of preparation?
I was very clear from the beginning that the main part was self-study. I joined FIITJEE because the course was integrated with the syllabus at school. Computers and English were taught to me by my school teachers whereas physics, chemistry and maths were only taught to me by my FIITJEE teachers.
So, I didn't have to study these subjects separately at school and run for tuitions in the evenings.
So you saved time. How was this worked out?
They had a tie-up with our school, MGM Bhilai, with such arrangement. It is optional for the students. Actually the fees for the same is Rs 2 lakh but I got a 100 per cent fee waiver since I stood second (all-India) in a written exam conducted by them in December of class X.
So you used to study only computers and English at school and PCM at FIITJEE?
No, I was taught PCM by FIITJEE teachers inside the school campus only. So I didn't have to waste my time running here and there in the evening and therefore I could spend a lot of time on self-study. From my self-study I used to gather all my doubts and discuss them with my teachers for hours at a stretch.
The FIITJEE teachers were very good at doubt clearance too.
Did you have any separate strategy for physics, chemistry and maths?
I would give equal weightage to each of the subjects, since the questions can be from any topic.
Any difference in your preparation for IIT-JEE and AIEEE?
Actually I didn't prepare for AIEEE separately, just prepared for IIT-JEE throughout. There were some additional topics for AIEEE from maths and physics which I covered in the two weeks between IIT-JEE and AIEEE.
Is the level of questions the same for both exams?
The level is the same and also there are objective questions in both, but while in AIEEE all questions are "single-option correct questions", in IIT-JEE you have a variety like match the following, multi-correct questions, some numerical questions etc.
What was your course material?
Apart from FIITJEE's packages and Brilliant's packages, I used some books referred to by my teacher like Paula Bruice for organic chemistry in which I was weak. This I had discovered through the various national-level Olympiads I had participated in and also my exposure to organic chemistry in class X.
How did you overcome this weakness? Who helped you?
When my teacher was teaching physical chemistry, I approached him and told him my organic chemistry was weak, so he suggested I buy the book. I used to read it regularly when organic chemistry (instruction) started and discuss all my doubts with him. He helped me a lot by giving me extra papers and summaries on this topic.
Also, I was good at physics but used to score a bit less in the all-India test series in the subject. In the last 5 to 6 months, I came in touch with the HoD of physics at FIITJEE, South Delhi and we used to interact over the phone and e-mail. He helped me improve a lot in physics and now, I am representing India at the international level in physics, thanks largely to his efforts along with my own. I dedicated entire January 2010 to strengthening my physics.
What would you say is the mantra of your success?
Time management. Many students first go to school and study all the subjects there and then in the evening run to various teachers, typically two each for physics, chemistry and maths. For me, everything was during school hours, so I had a lot of time at home for self-study. Also I had only one teacher each for all subjects and they were all good.
You also went to Japan recently?
Yes I went to Japan in August 2009 to attend the Asian Science Camp where I got the opportunity to listen to 7 Nobel laureates. There was a contingent of 30 participants from India within which I was one of the 7 who had got scholarships from the Japan government for the tour. The rest 23 had been sponsored by the Indian government.
Any message you would like to give to IIT-JEE and AIEEE aspirants?
Focus on your topics and don't try to study from too many teachers. Try to gain exposure as it helps build your confidence.