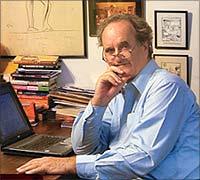 An interview with Mark Tully, former chief of bureau, BBC-Delhi about his career and more...
Former chief of bureau, BBC-Delhi, Mark Tully studied theology and considered joining the clergy. But fate had other plans. In 1965 he moved to India as BBC's India correspondent, and he went on to cover major incidents such as the Bhopal gas tragedy, Operation Blue Star and the demolition of Babri Masjid.
He was awarded the Padma Shree in 1992 and the Padma Bhushan in 2005. But despite the accolades, the scribe-turned-author dons no pretentious airs. When Careers360 approached him for an interview, he apologised profusely for cancelling on us twice. Third time round, he nodded in agreegment. The interview...
Born in Kolkata, you left for England at the age of nine but returned and made India your home. What beckoned you to India?
I have a connection with India. I think where you are born does matter. I believe to some extent in karma and where you are born is part of karma. The first day I came back to India (I hadn't been here for 20 years), I smelt marigolds and cowdung fires together and my whole childhood went through my head like an express train and I felt then there must be something special about India. I am very fond of Britain, where I spent my formative years.
You studied theology. What prompted you to take theology at such a young age?
I was always interested in theology and in the church. I was in a seminary with lots of people my age. I wasn't unique by any means. What I was unique at, was being told that I couldn't become a priest and I shouldn't become a priest.
Anyway, I graduated in history and theology. I would love to go back to university now. Sometimes I dream of doing that. Maybe I will learn Hindi properly and perhaps even Sanskrit.
What was your first job? How did you become a journalist?
It was an accident. I always thought I wanted to do something good for people. So, when I failed as a priest, I joined an NGO which was concerned with housing old people. I left that and joined British Broadcasting Corporation (BBC) but I joined in the personnel department because again I thought, personnel was about the people's welfare. But I found out that personnel was all about filling out files and sitting on interview boards and nothing much more.
So it was then that I thought, when I am in the BBC, I would quite like to stay here, but what would I like to be. Then I thought, I would like to be a journalist.
How was your first salary spent?
I was married and had children, so no exotic holidays or spending on clothes. I drank beer with people, went to pubs.
Should one take up a job for passion or a profession which pays?
A profession which you are interested in and which you have aptitude for.
In the controversial book, Hinduatva, Sex and Adventure, the protagonist is said to be you and has been projected in a poor light. How do you react to that?
It is a disgraceful book and it is utterly disgraceful of the publisher Promod Kapur to have published it, and to allow someone to write the book under a pseudonym. The writer didn't even have the courage to use his real name.
Which newspapers do you read?
I take The Indian Express, The Hindu and Business Standard and read Outlook, the news magazine.
What book are you reading now?
I just finished reading Rabindranath Tagore: The Singer and His Song, by Reba Som, a friend of mine. It's a fascinating book on what music meant to Tagore and how he composed it.
Your tips to our readers who want to take up journalism as profession.
To be a good journalist requires a lot of hard work and slogging. Be humble. Try and learn your profession and learn to be a professional.
Photograph: Rajesh Thakur