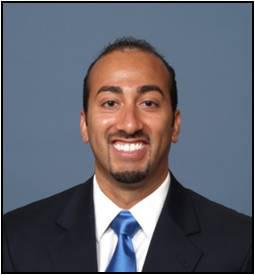 Aziz Haniffa spoke to Dr Pat Basu soon after he was chosen as a White House Fellow about his achievement and what he hopes to gain from the experience.
That a first-generation American could make it this far is testament to the ideals of this great nation," said Dr Pat Basu, one of two Indian-Americans to be named White House Fellows this year.
Hailing from Naperville, Illinois (USA), Basu is a radiologist at Stanford University and the Palo Alto Veteran Affairs.
He co-founded ExtendMD, a web portal designed to enhance outpatient care and is also the founder of STARS Luncheon, a non-profit organisation designed to support lower socio-economic children for future college and career success.
In an interview with Aziz Haniffa, he talks about being chosen for the prestigious programme and more.
How do you feel about being selected as a White House Fellow and what do you hope to bring to the table and in the government agency that you serve?
It is a simultaneous feeling of pride and humility. I am proud to represent the educators, physicians, business leaders and mentors who helped me attain this position. At the same time, I am humbled to be able to stand shoulder to shoulder with some of America's finest citizens who represent military leaders, captains of industry, legal scholars and physicians.
I feel very grateful to have been chosen from such a truly incredible group of peers. Simply to make it to the national finals and be interviewed by senators, generals and other leading citizens was a once in a lifetime experience. To actually receive this Presidential appointment is unbelievable -- to think that a first-generation American from the midwest could make it this far is a testament to the freedoms, opportunities and ideals that defines this great nation.
I hope to bring a versatile professional and personal background to the agency I serve. I have received degrees in medicine, engineering and business, which I hope gives me a well-rounded professional background. However, I am more proud of my versatile personal background. I believe that the people we meet are akin to the books that make up our lives. I always look to have a conversation and learn from everyone I meet, irrespective of their background or positions. This has given me a tremendous perspective and empathy, which I hope will continue to allow me to find humanistic solutions to future problems.
What do you hope this experience will help you achieve in terms of your goals and objectives in life?
I believe there is no greater calling than to make a positive difference in our society and in the lives of others. As a physician and faculty member at Stanford, I am thrilled to be able to influence a patient or a student one at a time. I value this tremendously but someday I would love to be able to improve the healthcare, education or economic status of hundreds or thousands of people.
This type of macro-level change can only be accomplished through powerful, innovative and effective policy formulation and implementation. This, of course, is a challenging task that requires a deep set of skills and experiences. I hope learning and participating in the highest levels of the federal government will eventually help me accomplish the goal of improving people's lives on a large scale.
Where were you born and raised and where in India did your parents hail from? Do you have any siblings?
I was born in Birmingham, Alabama, but was raised in Chicago, where I moved at the age of one. My father Arunabha Basu is a chemical engineer and my mother Kabita, whose maiden name is Ray, is a teacher. They are Bengali but my mom was raised in Orissa. My older brother Anupam is a physician in Chicago. My younger sister Joy is a management consultant at Mckinsey & Co in Chicago.
My parents have been my source of inspiration, and just to tell you about my mother, she was one of 13 children raised in a small town in eastern India, and her father died at a young age. She eventually left her family and the country she loved to move across the world to give her yet-to-be children a better future. The fact that a few decades later, her son became a White House Fellow is another incredible testament to the freedoms, ideals and opportunities that this programme and this nation embody.
I couldn't be more excited to dedicate my energy and experience to serve these ideals.