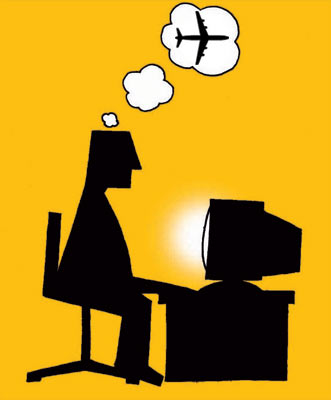 The University of Canberra, Australia, apart from its many educational programmes also offers students a multicultural learning experience.
Here, in a three-way interview with Beverly Reilly, senior international marketing manager, University of Canberra, Hanoem Wijaya, ex-student and now with online marketing division of the university, and Meenakshi K Chatta, general manager with Study Abroad, the overseas education wing of BetterThink, we find out more about what Indian students hoping to study there can look forward to.
Tell us a little bit about Canberra University?
Hanoem: The University of Canberra is located in Australia's national capital, home to its Commonwealth government, diplomatic community and international cooperation.
As Australia's Capital University, we are committed to preparing graduates for successful and rewarding careers in the professions, commerce and public service. Students are encouraged to develop their professional skills and knowledge, participate in internships, and build discipline-related networks. It works. The University was awarded the maximum five star ratings in the Good Universities Guide 2009 for 'getting a job' and 'graduate outcomes', making our graduates some of the most employable in Australia.
There are more than 40 undergraduate degrees and 190 postgraduate degrees on offer from the seven faculties: Arts and Design, Business and Government, Education, Law, Information Sciences and Engineering, Health, and Applied Science. The University maintains close relationships with professional associations, government departments and the corporate world. This ensures that the course are current and reflect international thinking and trends.
Beverly: The University is a single-campus university set on 120 hectares of picturesque native bush land, complete with resident kangaroos. It is a diverse community of 10,000 students, including 1,600 international students from over 90 countries. The University of Canberra offers easy access to the full range of facilities and services within the University, the local community, and city centre.
Meenakshi: It offers practical courses with affordable tuition fees. The International Student Advisor helps in academic and administrative matters. "Faceback" sessions help in cultural adjustment. On-campus accomodation gives you an easy lifestyle and availability of indoor sport facilities and most important, a safe environment. The University is ranked first in Australia in career placement.
A few students I met on the campus during the agent familiarisation tour (Nidhi Joshi, Samprithi Soma, Karandeep Narula) were very execited to be there and felt happy about their chosen destination. What more can you expect with graduation ceremony being held at the Parliament House.
What are the most popular courses amongst Indian students at Canberra University?
Beverly: Traditionally the most popular programs for Indian students are postgraduate in Business and IT. Programmes like MBA, Master of Professional Accounting, Masters of Human Resource Management, Masters of IT and our MBA double Masters programmes have become popular.
Students are also realising the value of an international focus so we have seen growth in the Masters of International Business which has the same core subjects as the MBA but the specialisation is in International Business.
What is the demographic break up of the university?
Beverly: We have 90 different countries represented on campus. The largest single group would be from China, followed by Middle East, South Asia and then South East Asia.
Will Indian students feel homesick?
Beverly: I don't think Indian students will feel too homesick. Initially there is a period of settling in when everything seems so new but the Indian students soon settle in. We are a single campus university and still small enough to provide a welcoming community feeling.
There is a strong Indian-South Asian community living in Canberra and so there are many festivals and celebrations that the students can become involved in. As a result of this population the students will find restaurants to suit their taste buds as well as stores where they can purchase all the specials spices and ingredients that their mothers use at home.
Meenakshi: There is an initial settlement time required by each student irrespective of any nationality. The greens and friendly UC staff helps put the students at ease. Though there is a sizable Indian community and restaurants, looking at how diverse the Canberra population is, Indian students can mix with all and enjoy their stay in Canberra along with learning about other cultures and languages. After all, its an international experience that one comes for. So, enjoy the best of it. When you come with an open mind the chances of feeling homesick are less.
Is on-campus accommodation available?
Beverly: Various styles of accommodation on campus is available. Students can live in a single apartment or share a five bedroom apartment with students from other countries. Living on campus is safe and convenient. There are facilities on campus as well as close by that will make the student life easy and comfortable. Living on campus ensures that there is always someone around to chat to and also provides easy access to the library and IT labs.
There are many social and sporting events that are arranged by the management of the student residences that provide a lifestyle balance as well as allowing for opportunities to meet new people. Living on campus ensures a truly international experience as well as allowing the student to settle in quickly with very few things to worry about. This provides them with the best opportunity to ensure success in their studies.
Meenakshi: Oh yes, and managed by a professional third party. I would suggest the students should apply for an accomodation as soon as they receive an offer of place from the admissions office. There is a long queue and is given on first come first served basis. There are different types of accomodation and at various cost points. Social events, skill-based learning, outdoor events form part of a regular routine. The sporting facilities, small marketplace and friends near you makes the students' life easy and saves the trouble and expenditure of travelling. It's like one big family.
What is the university doing to help Indian students assimilate better with the culture?
Beverly: The students are met at the airport and taken to their accommodation. Orientation provides the students with information about living in Canberra in general as well as information relating directly to their study. At this point they will meet the International Student Advisors who are located in the Student Centre as well as our International Student Ambassadors. This first week is very important in the life of the student.
There are official events as well as lots of opportunities to socialise and meet other students who will be studying in the same programs. The students will enroll in their subjects in this week and they will meet their Personal Advisor. Their Personal Advisor will be an academic member of their faculty who will be their main point of contact for any questions the student may have. These questions could be academic or otherwise.
If the Personal Advisor cannot help them then they will advise them as to who can help them.
Can students work part-time to earn pocket money?
Beverly: Students can work part time while they are studying and most students choose to do this. Most part-time jobs will be in the areas of retail, restaurants and petrol stations. After some time many students find jobs that relate to the skills that they already have -- for example IT. It is important for students to remember that it is compulsory to pay tax in any job that they do but this ensures that they are being paid correctly. Australia has very strong Industrial Relations Laws and these are in place to protect workers.
Meenakshi: Students can work part time and generally it is at the retail outlets or restaurants and sometimes even with the IT firms. Having said that, I would also like to mention that this should be considered only a "pocket-money" but not the means to fund their studies. Indian students should have the required financial stability to successfully complete their studies with any institute in any part of Australia. The focus should be on their studies so that they get skill-based employment after completion ofthe course. That gives them a better chance to stay back in the country.
There is obviously a cultural difference between the two nations. What would you advise an Indian student to help him/her settle in faster and better?
Beverly: The best advice that we can give an Indian student that comes to Canberra to study is to remember that things are not going to be the same as at home and that is partly why they are studying overseas -- to get the international experience. They will need to be open and flexible. They will find that there are many Indians living in Canberra and they will not feel uncomfortable in their new surroundings.
We find that sport and music are two of the activities that help students settle in faster. Get involved, be willing to imbibe the Aussie way of life, but do not lose who you are. Australia has a relaxed life style and things happen in an orderly way. There are no huge crowds to compete with so life will be much "easier going" than what students will be used to in India. Be prepared for "different" while also experiencing "similar". After all both countries have a great love of cricket.
Meenakshi: Flexible is the word, even with the climate that changes frequently in the day. Get involved with your institute's sports and cultural activities. Adapt to the nature and its people. They are very friendly and accomodating and have certain expectations too. It is good to find fellow Indians but be open and mix up with diverse community.
What are the dos and don'ts for an aspiring overseas student before he applies for a study visa?
Beverly: Get organised and do your research. A good counselor in a reputable agency in India will be invaluable to you. Be prepared to take advise from the correct source. Your friends, while meaning well, may not be the best source of information for you. Think carefully about your future and consider the money that you will spend on your education as an investment.
Meenakshi: Choosing the right study visa agent is one of the most important decisions students and their families can make. We at BetterThink help in "career mapping" and choosing the right institute according to the backgrund and interest of a student. The counsellor assesses and recognises the skills before sending an application for offer. Financial investment should be well thought of.
How can BetterThink help the student with the application process?
Beverly: BetterThink has a strong firsthand knowledge of the University of Canberra and is supported by our admissions team to ensure applications are processed as a matter of urgency. It also has access to our faculty staff who can answer more technical questions relating to applications. BT and University of Canberra take a personal interest in ensuring that student experience is a good one from the very first contact that you make.
BetterThink (http://www.tcyonline.com/india/canberra/Canberra.php), the IELTS wing of TCY, counsels students on the various education opportunities available. It offers counselling, guidance on course selection, admission guidance, visa filing and pre-departure counselling.