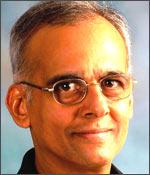 Andrologist and microsurgeon Dr Sudhakar Krishnamurti will be responding to rediff readers' sexual queries on a regular basis.
We invited Get Ahead readers to mail in their questions. Here is the next set of responses:
---
Hi,
I have sex with my wife daily but she is not yet pregnant. How much time does it take, generally? When I have sex and ejaculate in her vagina, sometimes a bad smell comes, is that normal? After ejaculating once, my penis takes a lot of time to get harder again -- almost two-three hours. What can I do to increase my performance?
(i) To apply the label of `primary infertility' a couple must have regular, unprotected intercourse for 18 months.
(ii) The commonest cause of abnormal vaginal odour is vaginal infection. Treatment cures this easily. (Both partners must be treated).
(iii) Inability to obtain another erection for 2-3 hours is normal. Don't believe your friends' fairy tales about how quickly they obtain multiple erections. The trick is to make the first erection last till your partner is fully satisfied. Medicines are available for this.
---
Hi: I have a query. Is there any interconnection between hair fall and sexual encounters?
Saurav
Your question is not very clear. Are you talking about pubic hair loss or hair loss from the scalp?
---
Hello Doctor,
I am 29 years old. I have the problem of azoospermia -- in childhood, I got mumps twice. Is there any chance to get treated for azoospermia? Please give me suggestions for the investigations to be done. Thanking you, sir, please help me.
Yes, mumps is known to damage the testis and lead to azoospermia (nil sperm count). But your azoospermia may also be due to other causes. These are listed on www.IndiaMaleInfertility.com
You will need a physical examination and some hormonal evaluation before we take it to the next step.
---
Sir,
I am a female in a dissatisfied marriage, but I have a strong urge for sex. Often I avail of partners beyond marriage. My problem is that I ejaculate with foreplay, just for less than 5 to 7 minutes. I feel extremely pleased and don't feel badly for penetration. Is it alright and normal?
Your question is not very clear but it appears that you are a female who engages in extramarital sex because of sexual dissatisfaction within marriage. If you are achieving climax (orgasm) without penetrative sexual intercourse, it is probably safer for you, both from the standpoint of pregnancy as well as that of sexually transmitted infections, including HIV/AIDS. You have to be very careful of engaging in such risky sexual behavior. It might be a better idea to discuss this with your partner and persuade him to seek andrological help. We regularly cure several such cases, very successfully.
---
Dr Sudhakar Krishnamurti is an international award-winning andrologist and microsurgeon. He is the only Indian on the world's first-ever batch of sexual medicine fellows (Oxford, 2007). Best known for the Krishnamurti Operation for Peyronie's Disease, he is also the founder of Andromeda, India's first andrology center, and author of the book Sexx is Not a Four-Letter Word. Click here to purchase the book from rediff Shopping.
Disclaimer: Please note that Dr Krishnamurti will be answering the most relevant queries at his discretion each week. His advice may not necessarily reflect the opinions of rediff.com and while it is in the capacity of professional medical counselling, it in no way should be considered an alternative to visiting a medical specialist for sex-related ailments.