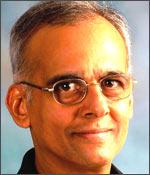 Andrologist and microsurgeon Dr Sudhakar Krishnamurti will be responding to rediff readers' sexual queries on a regular basis.
We invited Get Ahead readers to mail in their questions. Here is the next set of responses:
---
Dear sir,
My name is Raj and I am suffering from a disease in which at the night, when I'm asleep some drops of urine seep into my underwear and it smells badly. Kindly suggest what to do?
Regards,
Raj
It is not common to have nocturnal (night) discharges of fluids other than semen or urethral gland secretions. These usually will not smell foul the very next morning. Urine and other discharges are not normal. You could have some infection. Get the fluid and yourself tested.
---
Respected Dr Krishnamurti,
Thanks for your kind patience in answering this mail in spite of your busy schedule.
Since my childhood, say nine years onwards, I was very sexually oriented, although I did not know anything about sex and reproduction. I used to sleep vertically at a corner of the bed in an upside down position, with my penis on the edge of the bed, my legs towards the ceiling and used to put pressure on my penis by moving to either side. It gave me immense pleasure, so I repeated this activity 5-6 times a day upto my age of 14-15 years, from which time I started masturbating tremendously. NOW MY PENIS SHAPE HAS CHANGED, LIKE PLACING THE ALPHABET 'U' UPSIDE DOWN -- IT IS NOT STRAIGHT AND I AM ALSO FACING ERECTILE DYSFUNCTION.
Please provide your kind advice on HOW TO GET IT STRAIGHT AND GET RID OF ED?
Thanking you,
Lovish Saxena
Bedroom sexual acrobatics may cause injuries to the penis, which may then lead to curvatures and deformities, but they will not, per se, cause these or erectile dysfunction (ED). The case of Mr. Bentdick is discussed in detail in Chapter 4, Men Can Be Curvaceous Too, in my book, Sexx is Not a Four-Letter Word. It is easily available online through Rediff Books. The only treatment for such bends and curves, if found to be significant, is surgery performed at a centre of excellence. Don't fall victim to massages, ointments and pills that promise straightening. They will not work.
---
Dear Dr Sudhakar Krishnamurti,
I'm a 32-year-old male, unmarried. I'm suffering from nocturnal emissions (emission of semen/energy during sleep, particularly at night) for the past 16 months. After consulting a sexologist, I've been taking Clofranil tablets for the past 12 months. The tablet is working fine, but the fact is whenever I stop taking it (for a week or so), the nocuturnal emissions begin again. How long should I take the tablet? I would like your advice.
Regards,
Sathish
What you've got is not some disease but a perfectly normal biological phenomenon. The normal male human body manufactures semen for the sole purpose of expulsion, not for locking up and storing for indefinite periods. Prescription drugs are aimed more at your mind than at your ejaculatory apparatus and won't work. There are chapters (especially Chapter 11) in my book, Sexx is Not a Four-Letter Word, that deal with this matter in some detail.
---
Dr Sudhakar Krishnamurti is an international award-winning andrologist and microsurgeon. He is the only Indian on the world's first-ever batch of sexual medicine fellows (Oxford, 2007). Best known for the Krishnamurti Operation for Peyronie's Disease, he is also the founder of Andromeda, India's first andrology center, and author of the book Sexx is Not a Four-Letter Word. Click here to purchase the book from rediff Shopping.
Disclaimer: Please note that Dr Krishnamurti will be answering the most relevant queries at his discretion each week. His advice may not necessarily reflect the opinions of rediff.com and while it is in the capacity of professional medical counselling, it in no way should be considered an alternative to visiting a medical specialist for sex-related ailments.