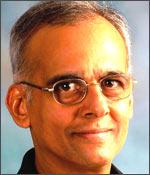 Andrologist and microsurgeon Dr Sudhakar Krishnamurti will be responding to rediff readers' sexual queries on a regular basis.
We invited Get Ahead readers to mail in their questions. Here is the next set of responses:
---
Sir,
I have observed in many English porn movies, men having sexual intercourse for a longer period of time (some upto 20-25 minutes) without discharging. When I have sex with my partner, I discharge within 2 minutes of having intercourse. Is discharging within a minute or two normal or is it that the actors take some kind of medicine to go on for a longer period of time? Please post my name as 'Vibes'. Looking forward for your reply.
Regards,
Vibes
You have to understand that porn is make believe, not real. Stop watching porn. It does no good. Premature ejaculation is ejaculation that occurs in under one minute. Yes, medicines are available to treat this, but these must be prescribed, not obtained over the counter.
---
Dear Sir,
Referring to your articles on Rediff, I am writing to you very openly about my sexual issue, in the hope of getting the best possible answer.
I am a 32-year-old male, very well-educated also. But I have a unique interest -- I am into elderly males in the 55-70 age group, with specific, sophisticated, decent looks...Well-cropped grey hair or baldness attracts me more. I feel like cuddling, fondling, massaging, hugging them, also masturabating with them.
Let me tell you, I don't have interest in young males. I am not gay towards young males, only specific elderly males. Well now, I don't have interest in females and I can't have sex with them, but at the same time, I can't stay lonely in life -- I have to get married.
How to switch from an elderly male interest to young females to make my married life successful?
Please advise...and kindly keep my name confidential.
Regards,
Jones*
Yours is a simple, straightforward case. You are homosexual, with a specific fetish. It is impossible to alter the former, and difficult to change the latter. You have to get a real in your understanding of your situation. Your orientation cannot be changed. You cannot reasonably expect to marry a woman and live a normal, honest life. Come out of your closet, embrace your own brand of sexuality honestly, and get on bravely with the remainder of your life. Millions have already done this. Above all, do not spoil another heterosexual woman's life by marrying for familial or societal reasons.
---
Hi Dr Krishnamurti,
I am a 28-year-old male, married to my sweetheart of the same age. We met when we were 21. Our sex life started soon after we met, and it was amazing. After we got married, I went abroad, she comes to meet me abroad every six months. This time when she came in April, the first day we had sex, it was normal. The next day, we tried to have sex early in the morning and I was out of stamina, I could not ejaculate. I thought at first it was a one-time thing. The next day almost the same thing happened, but I went on and on, till I was totally drained out. This continued for a few days. The day she was leaving, I went on and on, but ran out of stamina and hence could not ejaculate. Could you tell me what's wrong with me?
I will give you more info, if it helps to diagnose me better:
I use a condom.
I have put on some weight of late.
I masturbate every night before going to bed when my wife is away, sometimes more than once on weekends.
My mind seemed to wander while having sex, and at times I have to think of something sexy to ejaculate.
Wife has been always a little plump.
I had been circumcised when I was young.
While having sex, it feels as if there's too much lubrication which does not stimulate my penis. But at the same time, after having sex for a long time, my wife tends to be in pain, which according to her is due to the rubber of the condom.
Once we tried a different position, and that made me ejaculate much faster. However, I was not wearing a condom at that time. I know condoms make you ejaculate a little late, but recently it's abnormally late.
That's all I can think of at the moment. Sorry for the long e-mail, am just desperate to know what's wrong with me.

Regards,
Desa
There are multiple issues here. Certainly, condom use is one of them. This is born out of your observation that you are able to ejaculate in normal time when you do not use one. Try omitting masturbation for several hours before intercourse. This will increase your arousal during coitus and may hasten ejaculation. You may want to consider other forms of contraception than condoms. Your wife's complaint of vaginal soreness does not seem consistent with your complaint of too much lubrication. If intercourse without a condom does not restore you to ejaculation in reasonable time, then my experience tells me that you are watching more porn than is good for you. This is discussed in my book Sexx is Not a Four-Letter Word and in the third answer on this page. Check it out.
*Name changed to protect privacy.
---
Dr Sudhakar Krishnamurti is an international award-winning andrologist and microsurgeon. He is the only Indian on the world's first-ever batch of sexual medicine fellows (Oxford, 2007). Best known for the Krishnamurti Operation for Peyronie's Disease, he is also the founder of Andromeda, India's first andrology center, and author of the book Sexx is Not a Four-Letter Word. Click here to purchase the book from rediff Shopping.
Disclaimer: Please note that Dr Krishnamurti will be answering the most relevant queries at his discretion each week. His advice may not necessarily reflect the opinions of rediff.com and while it is in the capacity of professional medical counselling, it in no way should be considered an alternative to visiting a medical specialist for sex-related ailments.