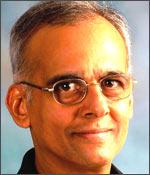 Andrologist and microsurgeon Dr Sudhakar Krishnamurti will be responding to rediff readers' sexual queries on a regular basis.
We invited Get Ahead readers to mail in their questions. Here is the next set of responses:
---
Dear Sir,
I am 31 years old and unmarried. I had my left testicle removed 5 years back due to torsion and now my right testicle has starting paining. I consulted a urologist and he says it is epididymitis orchitis. I underwent treatment for nearly 2.5 months and I have spent nearly Rs 9,000 but still the pain is persistent. It is not acute pain but it's very uncomfortable. I really don't know what to do -- should I continue with the same doctor or change to a new doctor?
He also told me to do USG scrotum-doppler test, CBC and urine routine and culture test. The USG scrotum test says epidymitis and spermatic cord thickening and mild increase in vascularity. CBC and U R/M, U R/C test is normal. Now he is saying go for a routine and culture test for semen. Request you to suggest what to do and how to go about it. Requesting you not to display my name anywhere.
Thanks and regards,
Shaheen*
You haven't mentioned the most important thing. What was the treatment given? You may send this information to AndromedaAndrology@gmail.com
---
I am a 31-year-old male, married since the last 6 years. I have a problem in that during the first act of intercourse I ejaculate at an average time, but during the second time it takes me about 45 minutes for an erection and then there is pain in the penis during intercourse. Also, during the second course of the act, my ejaculation gets prolonged to a large extent, thereby affecting my back and knee. Please advice what to do?
Regards,
Sahil
It is always better to try and make the first erection harder and longer lasting, than to try and attain multiple erections. You require prescription medication for your condition. This will cure you.
---
Dear doctor,
During intercourse with my wife, we talk about our neighbouring ladies' beauty and their sexual parts. We also use very dirty words during the whole process, we talk about other ladies having sex with us which is not really happening. Do you say it is unfair or is it normal during sexual enjoyment? Please clarify.
Rajendra
If your wife does not mind your playing these sexual word games, you may continue without guilt. The use of fantasy during love-making is normal.
---
Hi Doc,
I have been reading your replies on the rediff posts and I like your straightforward replies. Now to get to the question...I am a 30-year-old. My foreskin covers the whole of my penis and it doesn't retract. Even though I have never faced a problem having sex because of it, I am confused by all the talk about it leading to hygiene problems. I wonder, do I need a circumcision? I find it a problem to keep it clean since the foreskin doesn't pull. I still try my best. Do you have any suggestions on if I need to get a circumcision? Thanks in advance.
Regards,
M
There are two things here. Firstly, if one does not pull back the foreskin regularly and clean the glans penis under it, a white, smelly, cheesy substance called smegma accumulates. This is known to be a predisposing factor for penis cancer. Secondly, the glans penis under the penis is the most erogenous part of the penis and feels the most sexual pleasure. You are definitely missing out on this. Both make a strong case for circumcision surgery.
---
Dr Sudhakar Krishnamurti is an international award-winning andrologist and microsurgeon. He is the only Indian on the world's first-ever batch of sexual medicine fellows (Oxford, 2007). Best known for the Krishnamurti Operation for Peyronie's Disease, he is also the founder of Andromeda, India's first andrology center, and author of the book Sexx is Not a Four-Letter Word. Click here to purchase the book from rediff Shopping.
Disclaimer: Please note that Dr Krishnamurti will be answering the most relevant queries at his discretion each week. His advice may not necessarily reflect the opinions of rediff.com and while it is in the capacity of professional medical counselling, it in no way should be considered an alternative to visiting a medical specialist for sex-related ailments.