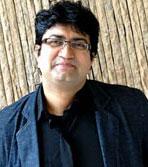 This small town boy from Uttarakhand has no big school tag attached. Lata Khubchandani delves deeper to unravel the making of the adguru -- Prasoon Joshi.
What was little boy Prasoon like?
An introvert. I read a lot. I topped my class very often though. A loner but still popular among classmates and friends for my music. I wasn't considered a 'fun' guy. I would either be quiet or say something very emphatically.
How early did you realise what you wanted to do?
I still don't know what I want to do. I started relying on my instinct when I was 18-19 years old. I started doing things that give me joy and found that advertising was a place where I could park myself.
Did you rebel against the unimaginative teaching/learning system?
I was not a rebellious child. So, I couldn't tell my parents what I want to do. I completed MBA and took up a regular job which I probably would not have done if it was left to me. I learnt a lot from that. I feel Indians are very nice people. They do a lot for their children.
So how did you reach where you have?
Anyone from a small town background will identify with me. I had small dreams but a large instinct. I could not bear mediocrity. I'd read books and wonder how people could rate them so high. I remember reading The Alchemist and disliking someone trying to manipulate my mind.
What shaped your sensibility?
I don't know. My reading was mostly classic literature -- Urdu, Hindi and English poetry and translations of Bengali literature. I didn't know popular literature or popular music. Both my parents have done their master's in music. So there was a very refined musical atmosphere at home.
I'm constantly learning. I never planned anything. Everything that I did, I stumbled upon. I do only what I like and I do it with full conviction. If I fall in love with what I do I can continue an affair with it forever. Nothing is obsolete.
How did movies happen?
I used to write. In films you have an audience and I have the need to communicate and see my thoughts resonating. Every artist feels the need to communicate.
And poetry?
Initially what attracted me was that I could be with myself. I saw multiple layers of thought, appreciated the writer's command over language. But it's a retro feeling now. When I read something beautiful I'd be completely overwhelmed by it.
A first crush?
I don't know. Maybe a character from a book.
What makes you tick today?
That I do my work seriously. I don't take myself seriously at all. I work for myself. I have to satisfy myself. I don't leave it to others even if they like my work. I have to filter it myself.