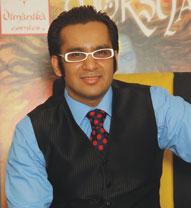 Karan Vir is 27 years old. His visiting card calls him a visionary and tells you that the man who it belongs to runs a comic book company called Vimanika.
The Mumbai-based company has been in the business for about two years now and recently won the Golden Cursor Animation express CNBC TV18 Best Comics award for 2009.
Vimanika is a far younger company than veterans such as Amar Chitra Katha and Raj Comics who have been in business for decades. But Karan remains unfazed. In an interview, the young entrepreneur tells Abhishek Mande how he plans to change the face of the Indian comic book industry forever and, somewhat ostentatiously, declares that he wants to get an Oscar for India sometime soon.
Excerpts from an interview:
Tell us something about yourself. What were you doing before starting Vimanika Comics?
To begin with, I haven't completed schooling. At 16 I was already working as a telemarketer in five-star hotels and even managing an Amway agency. Eventually I got into training and motivational speaking. However it was my Amway business that really gave me the training that I needed to become financially successful. It taught me the importance of communicating with people and even showed me how to be street smart and practical and how to make money.
What was the idea behind starting Vimanika?
There were three things that inspired me to start Vimanika. The first of course was to make money. I come from a fairly affluent family -- my father is a builder and my mother has been a successful entrepreneur -- but I wanted to do something on my own; move beyond my parents' shadows and establish my identity so to say.
Secondly, I hope to reach out to the youth and make them understand where they come from -- hence the mythological angle. It is also a great way for NRIs and Asians across the world to get back in touch with their roots, which is why we also have an office in the US now.
And finally, I wanted to shake up the failing Indian comic book industry because despite some awesome print runs, comic books in India have not really innovated and the industry itself is not quality conscious.
Why do you say that? Amar Chitra Katha (ACK) has been doing some interesting work recently.
ACK is a respectable organisation. But look at the kind of books that it brings out. Their books have flat colours ours have over 10-12 layers of colours. We experiment with everything and unlike ACK and Raj Comics we are pushing the envelope. They are happy with what they have and don't want to rock the boat.
We have won the first Golden Cursor Animation express CNBC TV18 Best Comics award for 2009, a category in which ACK and Raj Comics had also participated. Someday I hope to make Vimanika the DC or Marvel of India. We may not be able to replicate their success in the print runs but I'm sure we'll get there in terms of quality and art.
Why did you choose the comic book industry of all things?
I grew up listening to a lot of stories from the Indian epics as well as the Lord of the Rings. Somewhere along the way the syntax of these tales began to enamour me. I learnt to imagine and narrate tales myself. Meanwhile these tales also opened up a new world for me -- a world where I wasn't a failure in school, where the teachers didn't talk down to me and I was happy. This eventually grew into a passion and later into a business.
So what were your initial challenges?
Funding was and continues to remain a big challenge. While starting up, I was sure I didn't want to use my father's money. I was also hoping to make a movie with all the content that was in my head, something I realised I couldn't afford at the time. So I decided to start something smaller with the money I had saved up over the years. That's how the idea for comic books and graphic novels came about. It was also a good way to find out how people responded to the content before taking it to the next level.
There were also the other problems like that of finding the right talent. With lack of experience it was quite difficult. It took me some time to realise that script writing and comic book writing are two different ballgames. Also I didn't know you needed a different kind of language for the US markets. By the time I learnt all this I had spent a lot of money and a lot of time. Thankfully there weren't other people who were doing what I was doing so I could take my time.
How do you plan to take Vimanika forward?
We are in talks with some television channels. Once we get an episodic on air we should get some more visibility. 
Besides that I hope to aggressively market the books and be bullish in spreading the content. So we are now looking at partnering with people on a revenue sharing model and are looking at angel investors.
The eventual plan is to get a movie based on one of our comics, a movie that will be something like Avatar and get the Oscar for India.
And in all these years what have your learnings been?
The first and the most important one is that you should be able to visualise your dreams. Secondly you must have the passion to follow your dreams. Third, love what you sell because that way you sell better. Fourth, never give up. And finally, you have to adapt to the changing situations around you. Remember at the end it's not the genius but rather the one who can adapt who succeeds.
Tell us something about KV. I believe he is one of your central characters.
Yes. We have come out with five books so far revolving around him. Firstly, KV or Karan Vir has nothing to do with me. He just has the same name as me. KV is a successful person who has everything anyone could ask for but feels incomplete. What is missing in his life is spirituality something his alter-ego Karna introduces him to. He shows him how it is important to walk the right path and that there is a lot more to life than money.
Where do you see Vimanika in the next five years?
Well I definitely hope we become the next DC or Marvel of India. And I hope that our content is made into movies.