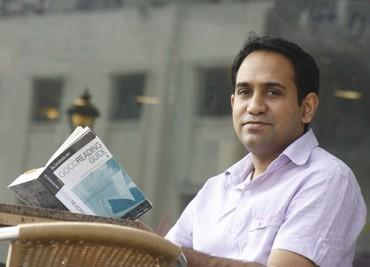 Abhishek Mande interviews Paritosh Uttam, an IIT grad, a practicing IT professional and now a novelist. His first book, Dreams in Prussian Blue is part of the Metro Reads series from Penguin Books.
The novel, an excerpt from which we'd carried a few days ago, is a tale of modern love and the complications that come with it. It tells the story of Naina who drops out of art school to live with Michael, her senior and a man she's been smitten by only to realise that it might've been a big mistake after all.
32-year-old Uttam, who lives in Pune with his banker wife, speaks about coming to terms with rejections from publishers and shares his views on live-in relationships.
Edited excerpts from an interview:
Let's see you've graduated from IIT Madras. You did your Masters from IISc. And you also have a published novel to your credit, a novel that has nothing to do with the life of a software engineer. How did the transition come about?

Well, I have been writing short stories for some time now and have been interested in fiction for a long time. My father is a scientist at ISRO and my mother is a language teacher with degrees in Hindi, English and Sanskrit. So I guess science and language were part of my genes. Moreover, I was always encouraged to read books right from my childhood. Later when I was studying at IIT, my humanities professor introduced us to world literature. There hasn't been any looking back ever since.
Tell us something about your days at IIT.
I was an Electronics student. It was supposed to be quite difficult and I found the reputation to be true! Academically it was quite a harrowing time. But I must say I loved those days and I miss the campus, the independence it offered and of course all my friends. The initial days were quite tough because I was used to being a topper all my life at school. But at IIT I was somewhere in the middle of the rung. It took some time to adjust but it was fine sooner rather than later.
Did you always want to be an engineer?
I grew up in Sriharikota, India's rocket launching station. Everybody in the colony was an engineer, and so it was somehow always understood that that's what I would be. My father is from the first batch of IIT Madras. I don't think I questioned it either since I was good at academics, a school topper, etc. It seemed natural that I should become an engineer.
Tell us something about the humanities professor who introduced you to literature.
I took a humanities course in my final year where Prof B Subramanian discussed world literature and writers. Until then, for me literature was about thrillers and bestsellers. So this course, and the professor, opened my eyes to what real literature was about. I got the highest marks in the class in that course, which I had not got in any other. So that probably told me where my natural inclination lay.
But you completed your course and went on to do a Masters too. Today you keep a day job as an IT professional. Do you ever consider leaving your job and taking up writing full time?
I don't think I would like to do that. There are two reasons for this. One is because I enjoy both -- I've been in the IT industry for over 10 years now and have been writing for quite some time too. Secondly, on a more practical level, I won't be able to make the kind of money I do from writing as I do at my IT job. Perhaps if some day I become a famous author who sells a million copies, I might consider giving up my job. Till then... probably not! Besides I also have to pay my EMIs.
How long have you been planning this book?

A few years ago, I was pitching another novel to Penguin when my editor suggested I could expand one of the short stories I'd written earlier. So I worked on that idea, made the characters younger, gave them back-stories, touched upon contemporary issues like live-in relationships and basically expanded the story into a full-fledged novel. The whole process took about a year.

What was it like writing a novel?

It wasn't my first. There was one before this, which was rejected by a lot of publishers. So when I started writing Dreams in Prussian Blue, I was quite sure of what I shouldn't do. I tried to get feedback, changed the parts that were not appealing and over a period of rewriting I improved to some extent.

What were the mistakes you avoided?

Firstly, I knew I had to remember I was writing for an audience. Just because I found something interesting wouldn't mean that others would find it good too. This was a lesson I'd learnt the first time around. I also focussed on fleshing out the characters, adding details to their lives and making them more believable and interesting because whether or not people remember the stories, characters will always stay with them.

What was the first novel about?

Let's say, it had some autobiographical elements, but I realise now some aspects of it were not very interesting. I understood I had to move beyond that.

How did you deal with the rejection?

It was very frustrating. As the number of rejections grew so did my frustration. But I knew it wasn't the end of the world and I could do better in the next attempt. At times though you do have doubts about whether you will ever succeed. You question whether it is worthwhile spending your time alone in a room writing instead of say watching a movie. However, not trying was not an option, because if you have a book you have some chance, but if you don't have any thing in your hands, then definitely your chances are zero.
Meanwhile I kept working on the draft. Re-wrote it a couple of times and then just gave up. I was fairly good at short stories so I decided to stick to writing them for a while. I have read about a lot of great writers who did not succeed until late in life. So I told myself that my time would come some day and that I had to learn from the rejections. I had to take it in a positive way and see what I could improve in my writing to increase the chances of my acceptance. I also tried to look at the brighter side of things. Unlike the protagonist in my book, at least I was financially stable.
What would you advise young people dealing with rejection -- emotional or personal?
Firstly do not put all your eggs in one basket. Have a back-up plan, so that if something does not work out, you know it's not the end of the world. That way you also don't stress yourself. Also, chances are you will do better at something when you are relaxed. Having said that, you should want it so desperately that you should be willing to give it your best shot. Keep trying until you succeed, so when you have to move on you will not regret not having done enough. Also it is important to know when to stop trying.

How did your wife take all of this? Did she know what you were going through?
She was supportive. She never said I should give up trying, but encouraged me to perhaps try writing something else, or try to get my short stories published. Again, the situation is not comparable to the characters in my novel, because we didn't have any financial problem.
Have your parents read your novel? What do they think of it?
Yes, my parents read the novel as soon as I received my author copies. They have not given me any review comments but they are definitely proud and happy for me.
What are your wife's thoughts about live-in relationships?
Her opinion is that if two people love each other and are old enough to decide for themselves, there is no harm in it. My thinking is that grass is greener on the other side: people in an arranged marriage think those in a live-in are better off, while those in a live-in probably yearn for the stability of a conventional marriage!
Was the second go at writing a novel a more organised and an easier process?

Certainly! It was also encouraging to know that I had an editor who was looking at my work and it was reassuring to know that the book would be published by the end of it all. So I was mentally quite relaxed.

What kind of books do you read?

I like Dostoevsky and Naipaul. But during the time I was writing the book I avoided reading contemporary Indian writers so as to avoid getting subconsciously influenced by their writings.

Your protagonists are an eccentric genius and a girl who leaves everything to stay with him. Have you met anyone like these two in your real life?

I do know a lot of women like Naina, who have sacrificed their dreams to be with the man they love. You can say I have taken different characteristics from different people I know. Michael on the other hand is completely from the top of my hat. I don't know anyone who is an eccentric genius like him.

You said earlier you wanted to write about issues that young people face. What were you referring to?

Well I wanted to focus on the living-in aspect. At 32, I find myself getting increasingly curious when it comes to the values of people younger than me. The youth today are very impatient. They want everything and they want it all very fast.

What are your views on live-in relationships?

I guess it's a very subjective question and depends upon the individual. As long as people are mature enough and know what they are doing I guess it's fine. Mine was an arranged marriage.

Okay let me put it this way, if you had the chance to live in with someone -- before you got married -- would you do that?

Five years ago when I was still single, I was well settled and financially well off. So I didn't (and don't) see the need to live in with someone and avoid marriage. I see a live-in relationship as a temporary affair without commitments. It all depends on how mature the partners involved are.
What does your wife think about your book and writings?

She liked the book. But she asks me how I could be so romantic on paper and not in real life!

And your colleagues… do they know you are a writer now?

(Laughs) Yes they do. A couple of them bought my book and got it autographed.

I'm assuming you're working on your next book now...

Yes. It's in the really nascent stages right now. There's just a broad framework in place. But since I already have a book published, I guess it should be slightly simpler this time around.
Read more of his stories on paritoshuttam.com
Or simply become a fan of Pariotsh Uttam and interact with the young author here!