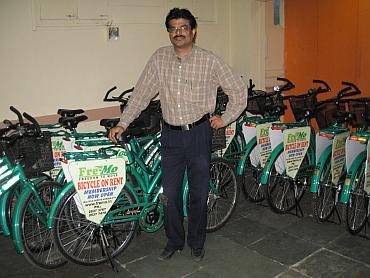 A year ago when V Ramesh was 48, an age when high-fliers look for the glorious last lap before reaching the age of retirement, he was bit by the entrepreneurial bug. He called it quits as the CEO of a non-banking finance company to pursue his eco-friendly passion.
After slogging over his bicycle-on-share concept for the last one year Ramesh, an IIM-Bangalore graduate, has finally introduced FreMo (freedom to move; http://www.fremo.in/) India's first state-of-the-art bicycle sharing programme. The project envisages helping the commuters cover the first and last mile of their daily travel to the railway station or bus stop.
"Every day about 7 lakh people come to Thane (a distant suburb on the outskirts of Mumbai) railway station from different parts of the city. They come by cars, motorcycles, buses and auto rickshaws. However, a lot of time is wasted as people keep waiting endlessly for an auto rickshaw or a bus to ply them to their destination. Besides the traffic congestion makes it worse," says Ramesh. He said that his programme intends to give relief to the commuters who want to opt for an economical, eco-friendly and healthy ride.
Ramesh feels the word sharing is a misnomer as it implies something that comes for free. "I also don't want to use the word rental as people have a very different idea about rentals. Though bicycle rental no longer exists in the city, it implies that the vehicle had to be surrendered from the place where it had been hired. Thus there is no concept of freedom in the rental system," said Ramesh.
He clarifies that 'sharing' does not mean 'free' but compared to other modes of transport it is more economical. As per Ramesh's estimates bicycle ride will enable the members to make a saving of Rs 30 to 40 a day on travel expenses.
What Ramesh is offering is brand new unisex bicycles along with lock, helmet, bag and raincoat (during monsoon) that could be picked up from any of its five depots and similarly deposited at any of its five depots. The cycles carry radio frequency tags and members have smart cards containing the information of time of delivery, identity of the cycle and mention other accessories being taken.
The membership process is similar to the mobile service providers -- choose the plan, make payment and submit documents. The payment is also similar to mobile service providers with only the pre-paid option available.
Owning a bicycle, explained the entrepreneur, comes with the responsibility of maintaining it regularly. "Regular maintenance of bicycles is a big dampener for its owners. Often bicycles are seen rotting in and around the buildings," said Ramesh.
Mandar Datar, a businessman who has his office at Kalwa in Thane, says he was unable to maintain his two bicycles that were used by his office boys for running errands.
"FreMo had opened its depot near my office and I enquired out of curiosity. Maintenance of bicycles was a problem and hence opted for this scheme on a trial. It is almost two months and everything is running smoothly," said Datar who is glad that he opted for FreMo.
It is not just businessmen who are getting the bicycles for their staff. Ramesh says that some of his members own cars and motorcycles. After his voluntary retirement from the banking sector Shekar Swaminathan (56), a health conscious person, alternates between walking and cycling on the picturesque Yeoor Hills. "Besides using the cycle for exercise I also use it to commute the 3 km distance between my residence and Thane railway station. Getting on public transport is difficult and so is driving a car. So this is the most sensible way to commute to the railway station," said Swaminathan.
Though he had initially intended to start 40 locations across Mumbai and Thane, availability of funding limited the programme to Thane.
"As a CEO of stock broking servicing corporate clients I was dealing in voluminous amounts of money and Rs 2 crore envisaged for my project seemed like cakewalk to me," said Ramesh. To raise the money was easier said than done. Ramesh finally got his funding from Bank of Baroda.
"It was not just the numbers that I projected which convinced them. Bank of Baroda gave me funding as they wanted to be part of a project that was eco-friendly and they also confessed that they were overwhelmed by my passion for the project," confesses Ramesh.