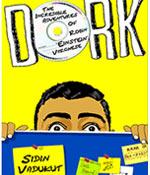 Dork: The Incredible Adventures of Robin Einstein Varghese by Sidin Vadukut is a hilarious take on India's corporate culture told through the diary entries of a fictional, bumbling B-school graduate, Robin Einstein Varghese.
Starting from 'Day Zero' at the management school till the day he almost loses his job, Varghese shares with his diary the most intimate details of his life including those of his steamy one-sided relationship with batchmate Gouri Kalbag. The following excerpt is a diary entry of a somewhat embarassing incident involving a huge five-star hotel bill.
2 pm
Okay. I usually try not to make any diary entries in the office, but you will not believe the s*** that happened this morning. Diary....
I woke up, got ready and went downstairs to have breakfast. I took a table for myself in a corner so that I could eat as much as I wanted to without being disturbed by the other guys. This was our last breakfast in the hotel and I didn't want to waste the opportunity. I'd given myself a full forty minutes for breakfast and asked a waiter to bring me waffles, two scrambled eggs, pancakes, French toast and the Scotch Breakfast Bowl.
I had no idea what the Breakfast Bowl was. But I figured that if it was Scotch it would be good.
And then I noticed that the other Dufresne guys were sitting alone at their tables too. The greedy bastards.
Everything was splendid except for the grapefruit juice. I can't understand why people would drink something like that first thing in the morning. Maybe it's a firang thing.
Also, the Scotch Porridge tasted like s***. It had stupid oats in it. Wet, shredded cardboard in milk with sugar and butter. Had the consistency of vomit. I'm gagging just thinking about it.
Anyway, it was a splendid morning. I left my luggage with the concierge, told him I'd pick up everything in the evening and then went to the reception to say bye to everyone.
Which was when they told me that I had to settle a few bills before leaving.
This was totally unexpected, of course.
I said that there was some mistake and reminded them that Dufresne was paying for everything. The fellow behind the counter, who had way too much attitude for a service sector professional of middling seniority, and an atrocious accent, checked the computer and then shook his lead. He said that only the room tariff and breakfast buffet were part of the Dufrense package.
And, he added, the company had asked them to bill all extra charges to the occupant. Jenson Joseph, who apparently hadn't spent a single paisa of his own money, stood next to me and whistled slowly. I had half a mind to stab him in the throat with a Taj President pen.
I asked them how much I owed.
They gave me a printout.
I almost passed out. I had to lean against the counter to hold myself up.
The bastards wanted me to pay eleven thousand two hundred and thirty rupees. Plus tax!!!
What the f***, right?
But I double-checked and it was all there. Including the French toast, the pancakes which weren't part of the breakfast buffet and the f***ing crap Scotch Bowl.
Jenson immediately ran over to the other guys waiting in the lobby. When I handed over Dad's add-on credit card and turned around to look at them they were laughing openly. Two even gave me a thumbs-up. I laughed back jovially and shrugged my shoulders.
I was fighting back tears. Secretly, of course.
I was quiet the entire trip back to the office. I had kept a bar of Ritter Sport chocolate in my bag to share with the gang in the cab to work. But I had to pay some four hundred bucks for it. So I 've decided to eat it a tiny piece every day till its expiration date in December 2009.
F***. I am very pissed with myself.
I need to meet the landlord in the evening to sign the contract. I spoke to him on the phone but I couldn't make out a word he was saying.
See you later.
S***. Two hundred and thirty bucks to dry-clean a shirt. S*** S*** S***.
Excerpted from Dork: The Incredible Adventures of Robin Einstein Varghese (Rs 199) by Sidin Vadukut, with the permission of publishers Penguin Books India.