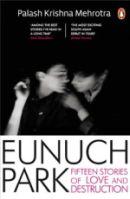 Sex, drugs and rock-n-roll. There's all of that and more on the mind of 33-year-old author Palash Mehrotra, whose first collection of short stories, Eunuch Park: Fifteen Stories of Love and Destruction, was released in India earlier this year.
Taking on modern India's gritty underbelly -- prostitutes, crossdressers, murderers, drug addicts, students and stalkers -- Eunuch Park offers a glimpse of the other side of the 'India Shining' story, one not often seen on TV or read about in books. And all of it is written in Mehrotra's unique prose: tense, uncompromising, penetrating.
Here, an except about a fledgling schoolyard romance from one of the book's stories, The Farewell.
On the last day of school, there was a fight. No one quite knows what happened. One minute we were standing in neat rows, the next there was pandemonium. The girls huddled together on the stage of the auditorium, like nuns in a besieged convent, while the boys had it out on the floor. The teachers who tried to intervene got beaten up. A group of boys drove around the dusty cricket field in an open Jeep, firing shots into the air. It wasn't clear whether this was being done in provocation or celebration. Mayank Luthra, always a loner, stood in a corner of the auditorium, breaking plates. Gingerly he picked up each plate with both hands, then raised it above his head as if offering prayers to the sun god, before finally letting it crash to the floor. He went through two entire stacks, both eyes shut tight, a picture of contemplative aggression in a gallery of flying fists.
By eleven in the morning, it was clear that the farewell was not going to last till the afternoon as planned. The plates were all smashed, the cola stolen. I cycled back home to pack in an extra two hours of cable TV. MTV had just come to Allahabad with its drop-your-sideburns ads and all-American programming. The Pearl Jam-obsessed Danny McGill was its star VJ. When I switched on the family's black and white television set, Eddie Vedder was growling, 'I am alive' into a microphone. Then, in what looked to be a desperate attempt to drive a point home, Vedder chucked the mike and dived into the crowd. To my seventeen-year-old self, just back from the failed farewell at the Boys' High School, this seemed to confirm a growing suspicion -- that the world was chaos and anarchy the way forward.
Two years earlier, my school -- an all boys' grind established more than a hundred years ago -- had turned co-ed. 'I've decided to throw some roses among the thorns,' declared Frederic DeSouza, the principal, at our first co-ed assembly.
I promptly fell in love. Thorny, bespectacled me fell in love with rosy, anorexic Rachna. She had matchsticks for legs and long, very long hair.
I discovered New Kids on The Block and yellow Digene. I bought an Archies card (ten clocks displayed on the front and inside the punchline: 'It's time we got together') and gave it to Rachna between the covers of an accounting register.
Rachna responded by refusing to acknowledge my presence in class. I was desperate. Then one day she passed me a note: Come for the soccer match in the evening.
It's 12 C vs 12 A. I arrive in a white Smash T-shirt, light blue Wranglers and a rexine belt studded with stars. We say hello and shut up for another hour. Afterwards, she says goodbye and leaves with her girlfriends. Minutes later, I am surrounded by three guys. They have country pistols. 'Light-eyed lover boy, kanja deewana,' they tell me, 'get off her trail or else...'
In the next few days, I discover a thing or two about dating in Allahabad. Want girl? Get 'backing'. Whose backing? Of the Hindi-medium types -- the kind who've been flunking class 9 for the last five years. They carry arms, they have scars, they have the lingo. A typically violent east UP lingo where women are always whores (chinar) and sex is always about robbing virginity (seal todna).
The English-medium kids need the Hindi-medium goons. The latter too need the former -- they want to be seen with the cooler English-speaking boys. In the evenings, they form groups and hang out outside downtown soft-drink booths.
I want to be able to speak to Rachna freely but can't. After the soccer rendezvous, the entire town is out to get me. Rachna and I exchange smiles in class and at the school gate, but that's about it. I am shit scared; she is totally confused. I have a vague idea that I shouldn't let on that I am shit scared. Girls like brave men. Besides, what idea could this dainty little girl possibly have about the big, bad world of gangs, motorbikes and bicycle chains?
One morning, just before assembly, Gaurav Arora, the school jock, strolls over to where I am standing. He is reputed to have a way with girls. Gaurav offers some friendly advice: 'Anand Mishra knows about your date. He's really pissed off. Rachna is his maal. He's coming at recess to break your bones. At least that's what he told me. Take my advice, buddy. Go home right now, because as far as I can see you have no backing.' I ponder over his suggestion for a minute, then decide against leaving the school campus. If girls like brave men, then this is my moment. I will not run away. I will be brave.
Mishra arrives with his gang at the appointed hour. He is twice my size and flaunts a thumb-sized scar on his right cheek. He is in his third-year BCom. I am summoned to the canteen. 'Mishra wants to see you.' It turns out that's all he wants to do. When face to face, he stares at me unsmilingly, then asks me to leave.
The next day, in the library period, Rachna invites me to sit next to her. I hesitate for a moment. I know there are spies in our class. Mishra will get to know immediately. 'Come here, sit with me,' repeats Rachna. Her hair smells of lemon, her hands are tiny and pretty, her eyes are lined with kohl -- I allow myself to be seduced. We open a Sportstar and have our first proper conversation. 'Why did you have to pass a card? Couldn't you have just said it... like with your mouth?'
'If you don't like my card you are most welcome to return it.'
There is a pause in the conversation. She decides to overlook my offer. 'I heard Anand Mishra came to school yesterday,' she giggles. I look up from the Sportstar, and expression of surprise on my face. 'What did he say?' I don't reply. 'If you want I will have a word with him,' she offers, and then, without waiting for a reply, she decides the matter for me. 'In fact, I will have a word with him. He won't touch you. You don't worry. Call me in the evening.' I dig out the school diary from my bag and write down her number. The bell goes. While we are walking out, Rachna turns to me and says, 'That card. You know what? You bought it from my shop. The stock came in from Delhi on Saturday. I put it on the display rack on Monday morning.'
The librarian is staring at us. She's got a squarish face and an oily nose. One can sense her mind is in turmoil. She feels the world is coming to a premature and violent end. Her gaze latches on to our backs like a fish hook and refuses to let go even when we are backing in our dingy and damp classroom.
I graduate to calling Rachna up every evening at 5. I have her backing. I never graduate to taking her to the tila, which is a desolate mound on the outskirts of town, at the very edge of the cantonment, overlooking mustard fields. Serious couples come here to plot elopement and discover the sense of touch. There is no place for them on the main drag. They exist on the fringes, away from prying eyes.
I call Rachna every day after my accounts tuition. There is no phone at home so I bicycle down to Kohinoor Chemist in Civil Lines. In the age of the PCO, he is one of the last to have a black, one-rupee slot phone. Drop a one-rupee coin and talk for as long as you like. I usually talk for around three quarters of an hour, then go home. The Babri Masjid has been brought down in Ayodhya. There have been riots across the country. Allahabad is 'tense but under control'. Like my adolescent dick. My parents want me home before sundown.
Excerpted from Eunuch Park: Fifteen Stories of Love and Destruction (Rs 250) by Palash Krishna Mehrotra, with the permission of publishers Penguin Books India.