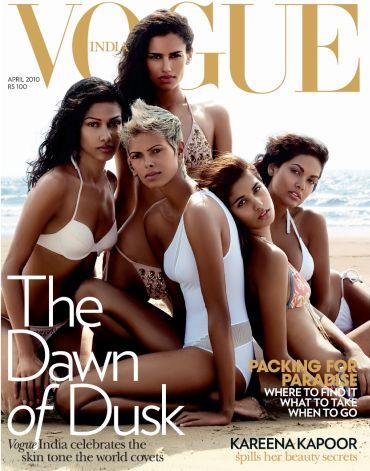 Here's a first look at India's dusky supermodel brigade, gracing the latest edition of Vogue magazine.
Summer is here and Vogue has decided to send temperatures soaring with its April issue.
The glamour magazine's latest cover story, 'The Dawn of Dusk', features a few of the sultry beauties that have become fixtures on the Indian runway, defying the fairness craze that up until now set the bar for careers in the modelling industry.
To celebrate dusky appeal and the arrival of the beach season, supermodels Gia Johnson, Nethra Raghuraman, Tinu Verghis, Ashika Pratt and Esha Gupta have posed for a sizzling group photograph in swimwear.
Going anti-clockwise from the top, we see Gia in a sequinned bikini by Tara Matthews, Nethra in a mix 'n' match with polyester bikini top by Chloé and bikini bottom by Topshop, Tinu Verghis posing in a Jean Paul Gaultier one-piece, Ashika lazing in a Louis Vuitton bikini and Esha in a white D&G two-piece.
The sizzling shoot took place at the Marbela Resort and Club Fresh in Goa, with styling by Anaita Shroff Adajania and renowned lensman Prabuddha Dasgupta behind the camera.